Mexico has multi-billion dollar plans for wind energy
October 23, 2015
The North American country intends to spend $46 billion on wind power over the next 25 years.
In an effort to improve Mexico's energy industry and move toward a lower carbon economy, the country is planning to quadruple its wind energy capacity in the next 25 years, and is aiming to add 22 gigawatts (GW) of wind power by 2040, which will require a $46 billion investment, according to a news report from Bloomberg.
Currently, 75% of Mexico's power comes from fossil fuels.
Due to its heavy reliance on fossil fuels for electricity, presently, Mexico is the tenth largest contributor of global greenhouse gases (GHG) in the world. That being said, the country has made it clear that it has every intention of becoming cleaner and was the first developing nation to submit a plan to lower its carbon emissions before a United Nations conference, which will be held in Paris in December. Nearly 200 countries are expected to attend the conference and sign a deal to combat global warming.
Mexico pledged to cut its GHG emissions by 22% by 2030. Expanding its use of renewables for power will lower fossil fuel based energy generation to 45%.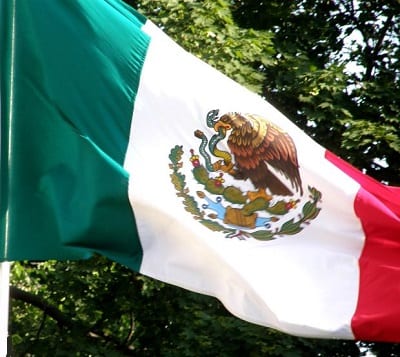 Alejandro Peraza, the general director of the energy regulator CRE, said in an interview that "There is a clear national policy on climate change taking place." Peraza added that "We are going in the direction of a low carbon economy."
Within three years, Mexico expects to have 10 GW of wind energy turbines in operation.
The additional turbines will be spread throughout almost every region of the country. According to the country's Wind Energy Association, Mexico plans to grow its wind power sector from its 2.5 GW in 2014, to 10 GW by 2018, to a total of 22 GW by 2040.
According to a Bloomberg News survey, the country's economy will grow 2.4% in 2015 and the Mexican government expects that demand for energy will increase 4% every year over the next ten years.
According to New Energy Finance, the growth will be fueled by the country's move toward renewable energy, which, by 2014, will increase to 51% of total installed capacity from the current 14%. Most of this clean power will come from wind energy.