Mexico opens world's first cactus-powered biogas plant
February 23, 2016
The biofuel made from the new plant will be used to power a vehicle fleet.
Mexican company, NopaliMex, has successfully constructed the world's first power plant that uses prickly pear cacti to make biogas. According to Nocticias MVS, the digester was designed to power the plant's daily 8-ton production operations, as well as provide fuel for the vehicle fleet in the Mexican town of Zitacuaro, located in central Michoacan state, reported EcoWatch.
The alternative fuel is expected to lower the use of gasoline by a minimum of 40%.
The prickly pears are pureed, combined with manure and left to decompose to create methane gas, which is used for fuel and generating electricity. The Economic Development Secretary, Adrian Lopez, told Noticias MVS that the cactus fuel is anticipated to reduce gasoline use in Zitacuaro's vehicle fleet by at least 40%.
As for its energy production, the methane that is burned for power produces enough electricity to run 300 homes at a cost that is 50% cheaper than grid prices.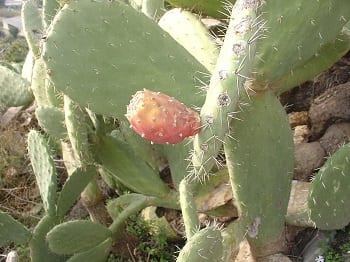 NopaliMex's Rogelia Sosa reportedly came up with the idea for the green power plant about ten years ago when he was searching for ways to lower's his company's energy bills.
Developing clean sources of power, like biogas, is necessary for Mexico to reach its 2024 renewable energy goal.
Lopez has applauded the alternative energy project and inaugurated it to be operated by NoaliMex. The Economic Development Secretary expressed that the power plant is an excellent example of the types of renewable energy projects the country should be adopting.
Back in January, Mexico mandated that by 2024, 35% of the country's electricity needs would be supplied by renewables.
As for prickly pear being used as a renewable fuel, EcoWatch reported that according to a Gizmodo article, written by Kelsey Campbell-Dollaghan, there is massive potential for these cacti as biofuel and they could be a beneficial renewable source to areas of the world stricken with drought.
"What makes prickly pear so interesting as a fuel for making biogas or other forms of biofuel is that it can be grown in places where traditional energy crops can't…It wouldn't suck up the resources or space needed to feed people, as current bioenergy crops are criticized as doing," explained the Gizmodo article.