Montreal aims to install 1,000 Electric car charging stations by 2020
October 29, 2015
The Canadian city has unveiled its ambitious plans for an electric car charging network.
By next spring, Montreal will have 106 electric car charging stations at on-street parking spots; the start of its ambitious plan to install 1,000 of these charging stations throughout the city over the next five years. According to Montreal Mayor Denis Coderre, the project makes the city the first in Canada to create an electric vehicle (EV) charging network, reported the Montreal Gazette.
By 2020, Montreal hopes to lower its greenhouse gas (GHG) emissions by 30%.
In a press release, the city said that its 30% GHG reduction goal will be accomplished mostly through electric transportation. Presently, transportation is responsible for 43% of GHGs in Quebec. The province hopes to have 100,000 EVs on the road in five years.
Coderre said that if both the city and the province want to encourage residents to choose electric cars over other forms of transportation, infrastructure is needed, which includes offering a network of EV charging stations.
Not all electric car charging stations will be free.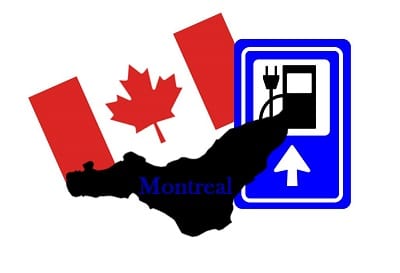 The plans that were recently announced by the city include installing 25 double charging stations of 240 volts, as well as three rapid charging stations with double the voltage. Within 10 minutes, the rapid charging station can sufficiently recharge a car to travel 50 km. In addition, Quebec will also partially fund another 25 charging stations, and AddÉnergie Technologies Inc. will provide Montreal's 53 stations at a cost of roughly $415,000.
The stations have been adapted to Quebec's climates and use a pulley system so that during the colder months of the year, the electric cables do not come into contact with snow or ice on the ground. In addition, according to the director of electrification of transport for Hydro, France Lampron, the EV stations can be adapted for new technologies.
The charging stations will be located at current parking spots reserved specifically for EVs. However, if the parking spot happens to be a metered spot, drivers will be required to pay, just as they would if they were parking a traditional motor vehicle. The 240-volt stations will cost $1 an hour, plus the additional cost of the parking meter. The 400-volt stations will cost $10 an hour.
The first four electric car charging stations, featuring 16 points for recharging, are scheduled to be installed by the end of November and will be located on Saint Antoine Street West.