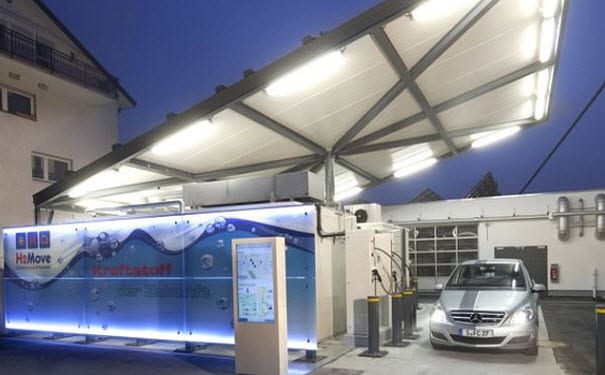 New hydrogen fuel stations coming to Germany
June 22, 2012

Government takes an aggressive step to establish a hydrogen fuel infrastructure
Germany is beginning to lead the way in establishing a comprehensive hydrogen fuel infrastructure in Europe. The country has been a major source of support for hydrogen fuel in the region, powering the research and development of fuel cells. It has also been a vital part of the development of the European Hydrogen Highway, a network of hydrogen fuel stations located throughout the European Union. Now, the German government has shifted its focus, aiming to bolster the country's own infrastructure ahead of the release of new hydrogen-powered vehicles.
50 new stations to be built in the coming years
This week, the Ministry of Transport, Building and Urban Development has announced that no less than 50 new public hydrogen fuel stations will take root in Germany. The agency has invested more than $50 million in the endeavor, will is expected to begin producing fuel stations within the next year. Currently, Germany is home to 15 hydrogen fuel stations, enough to power the 5,000 hydrogen-powered vehicles that are currently operating in the country. The 50 additional stations will pave the way for the rapid adoption of new hydrogen vehicles being released between the years of 2013 and 2015.
Infrastructure will assist hydrogen-powered vehicles find success with consumers
Germany plans to build as many hydrogen fuel stations as it can in the coming years in order to ensure consumers can adopt hydrogen-powered vehicles without a problem. The Ministry of Transport, Building and Urban Development expects that hydrogen-powered vehicles will be much more attractive to consumers if they no longer have to worry about where they can fuel these vehicles. The success of hydrogen-powered vehicles could create promising economic growth within the country.
Initiative expected to create jobs
The hydrogen fuel station initiative is expected to create a significant number of new jobs, both temporary and permanent. The stations themselves will be open to the public. They will be situated in areas between cities in order to better facilitate long-distance travel for consumers.
Related article(s) and resources:
http://www.autoevolution.com/news/germany-getting-50-hydrogen-filling-stations-46378.html