New recycling technology revolutionizes how scrapped cars are recycled
October 29, 2014
0
By
Amanda Giasson
A new technology aims to recycle almost 100% of old vehicles or turn them into energy.
Oldbury, a town in the West Midlands in England, will be introducing the largest industrial waste gasification factory in the world this month, a facility that is the £100 million joint venture between Chinook Sciences and European Metals Recycling (EMR), the biggest metals recycling company in Britain.
The project is part of the growing "cleantech" sector.
Cleantech is a specific area of the clean economy that includes everything from car sharing to renewable energy and smart grids. A recent report from Cleantech Group, a US consultancy, placed the United Kingdom second behind the United States in its yearly ranking of startups in the cleantech sector.
The facility in Oldbury will attempt to recycle almost 100% of old cars. The end result will be the production of synthetic gas, which can be converted into electricity as easily as natural gas. Chinook's waste gasification process transforms wood, foam, carpet and other organic material into gas. It strips out clean metal that can then be recycled.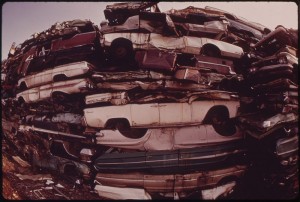 The head of Chinook's European business, Martin Nye, says that "There is so much wiring in a car these days that, short of having a guy with a Stanley knife, this is the only way to recover it." Synthetic gas that is produced from the process is not unlike natural gas and can be utilized to power stream turbines and generate energy.
Britain hopes that its recycling rates will improve with the new plant in Oldbury.
Each year, Britain scraps over one million vehicles. Currently, EMR has 10 mechanical car shredder facilities, with its biggest plant shredding 240 vehicles every hour. It processes two million tons of car and other metal waste, annually. Prior to its investment to recover plastic waste in cars, the firm was sending 500,000 tons of waste to landfills.
Increasing landfill taxes have been a huge factor for pushing forward green developments. In 2013, Britain exceeded the 85% recycling target (achieving 88%) for scrapped cars implemented by the EU back in January 2006. However, starting January 2015, the 85% target will increase to 95%. EMR's director of business development, Graeme Carus, said that the one way that Britain will achieve these targets is with the new technology. "You can't meet those targets by dismantling spare parts off a car," Carus stated.
About The Author
Amanda Giasson is a professional freelance writer, editor, and fantasy fiction author. She has a keen interest in the environment and is fascinated by the role that hydrogen fuel and other forms of alternative and renewable energy play in helping the world to decarbonize and move toward a greener and more energy-secure future. When she's not writing about the environment and various other trending topics, Giasson enjoys co-writing novels in the popular Perspective book series.