New solutions needed to combat growing marine plastic pollution crisis
February 1, 2016
Researchers say by mid century there will be more plastic in the oceans than fish.
According to a new report titled "The New Plastics Economy: Rethinking the Future of Plastics" from the World Economic Forum (WEF) and Ellen MacArthur Foundation, at the current growing rate of marine plastic pollution, there will be more plastic in the world's oceans than fish (by weight) by 2050.
Eight million tons of plastic waste presently finds its way into the sea every year.
To put that into greater perspective, this astronomical amount is equivalent to one truckload each minute. The 118-page report revealed many troubling statistics in regard to the amount of plastics polluting the world's oceans, including how 150 million tons of plastic debris is floating in areas such as in the Pacific. For instance, one specific area of the ocean has been called the "Great Pacific Garbage Patch" because sea currents in this region cause an accumulation of floating plastic.
The report notes that, since 1964, plastic production has increased twenty times. It also points out that currently 15% of all car parts are made up of plastic materials and that about 50% of the Boeing 787 Dreamliner is plastic. Furthermore, back in 2013, over $260 billion worth of plastic packaging (about 85 million tons) was released into the market.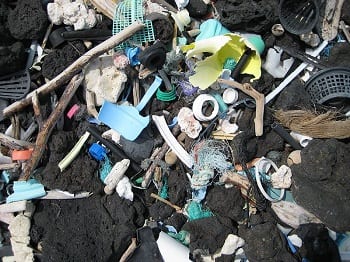 This staggering amount of plastic production is not only having a harmful effect on the environment, but is also resulting in huge economic cost.
Most plastic pollution is the result of poor recycling practices.
According to the report, 95% of the plastic packaging is lost to the economy, annually, and this packaging is worth between $80 and $120 billion. The researchers say that an astounding 32% of plastic packaging is missed by collection systems. This generates significant economic costs by lowering the productivity of the ocean and other vital natural systems, as well as cloggs urban infrastructure.
The report also claims that aside from a third of plastic waste ending up in the environment, 40% is sent to landfills and only a small 5% of plastics are properly recycled.
The economic cost of plastic pollution, including the greenhouse gas emissions that result from the production of plastic packaging, is approximated at $40 billion a year, which is more than the plastic packaging industry's total profits combined.
The report states that in addition to their being more plastics than fish (by weight) in the oceans by 2050, the entire plastics industry will consume 15% of the annual carbon budget and 20% of total oil production. It added that "In this context, an opportunity beckons for the plastics value chain to deliver better system-wide economic and environmental outcomes, while continuing to harness the benefits of plastic packaging."
In other words, the plastics industry needs to improve its recycling and waste reduction method to help combat plastic pollution.