New wind energy system wins approval in Scotland
October 1, 2014
Scottish government grants approval for the construction of a new wind farm
The Scottish government has approved the construction of the Middle Muir wind farm. The approval may serve to debunk some of the concerns that people had concerning the country's renewable energy plans and its decision to remain a part of the United Kingdom. Earlier in September, Scotland held a vote concerning whether or not it would become an independent nation. Voters chose to keep Scotland as part of the UK, and some expressed concerns that this would rattle the country's plans regarding clean energy.
Middle Muir wind farm expected to generate enough energy to power 28,000 homes
The new wind energy system will be comprised of 15 wind turbines and will generate enough electricity to power approximately 28,000 average homes. The energy system is expected to have a significant impact on the economy, creating new jobs and generating nearly $7 million in community benefit funding over its lifetime. The energy system is also expected to help Scotland reach its clean energy goals in the coming years.
Scotland is on its way to achieving its ambitious clean energy and sustainability goals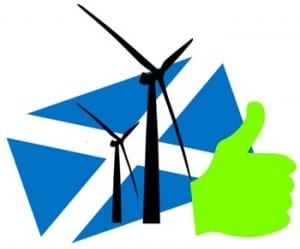 Scotland has plans to derive 100% of its electrical power from renewable sources in the coming years. According to the Department of Energy and Climate Change, Scotland is well on its way to achieving the goal. A recent report from the agency shows that Scotland's clean energy production was 30% higher during the first half of 2014 than it was during the same period last year. Fergus Ewing, Scotland's Enterprise and Tourism Minister notes that the country is already supplying a third of the renewable energy being used in the United Kingdom.
Wind energy continues to be a major interest for Scotland
Scotland has a major interest in wind energy. The country is currently home to some of the most ambitious offshore wind projects that are taking form and these projects could have a major impact on the country's energy structure. Despite recent political issues, Scotland's plans concerning clean energy seem to be unchanged.