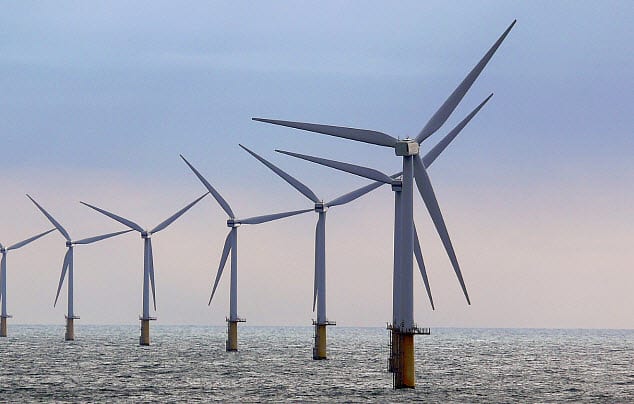 One of the world's first offshore wind energy system goes live in the United States
December 29, 2016
Offshore wind energy system could provide power to more than 17,000 homes
Off the coast of Rhode Island, one of the world's first offshore wind energy farms has begun operation. Deepwater Wind, which developed the new wind farm, believes that the new offshore system can generate enough electricity to power 17,000 average homes. Jedd Grybowski, CEO of Deepwater Wind, notes that "We see this being a big industry, we see offshore wind producing a lot of energy for the United States, particularly here in the Northeast where the winds are really strong,"
Offshore wind energy continues to show promise in the US
The offshore wind energy industry has experienced significant growth in recent years, with many new wind projects taking form in the United States. To date, the Block Island Wind Farm is the first of these projects to begin producing electrical power. The wind turbines at the Block Island Wind Farm stand at approximately 600 feet  and residents of Rhode Island are expected to pay a premium for the electricity they consume from the new wind farm. This electricity is estimated to cost 60 cents per kilowatt.
Several countries have chosen to embrace offshore wind energy
Countries like Denmark have been pursuing offshore wind energy for years, but they have only found modest success. The United States is home to a great deal of offshore wind energy capacity due to its access to vast expanses on sea territory. The federal government also provides support for both onshore and offshore wind energy projects through the Production Tax Credit. This federal initiative proves a strong degree of financial support for wind projects, both onshore and offshore.
Politics may determine the future of offshore wind energy in the US
Several offshore wind energy projects are currently in various stages of development throughout the United States, but the future of these projects is in a state of proverbial purgatory. President-elect Donald Trump has been a somewhat outspoken opponent of offshore wind energy systems in the past. Trump's energy policy may also have a detrimental impact on the offshore wind energy market, but nothing is yet is set in stone. How future political policy will affect the offshore wind energy market has yet to be seen.