Report shows sales of electric vehicles have shot up
January 12, 2015
New report highlights the growing attractiveness of clean vehicles
The Society of Motor Manufacturers and Traders has released a new report that shows that the sale of electric vehicles has quadrupled in 2014. The report suggests that consumers are turning to electric vehicles more readily. Some consumers believe that these vehicles are less expensive than their conventional counterparts, while others are embracing clean vehicles for the sake of the environment. Whatever the case may be, electric cars are experiencing a period of strong growth.
Demand for electric vehicles continues to rise quickly
The demand for electric vehicles has been growing steadily over the past few years, but reached new heights in 2014. The report shows that sales of pure electric vehicles, those that do not have a hybrid energy system, rose by 167% last year. Hybrid vehicles saw even more success last year, with sales jumping an impressive 628%. These vehicles are becoming more popular among consumers, especially as the infrastructure needed to support them begins to establish itself.
Hybrid vehicles continue to be popular among consumers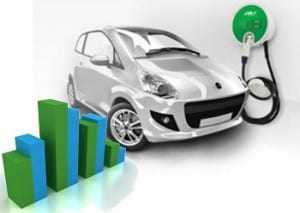 While pure electric vehicles are gaining ground, hybrids that use petroleum are still dominant in the clean transportation market. These vehicles are somewhat more attractive to consumers because they are easier to fuel. Hybrids can make use of the massive fuel infrastructure that already exists. This means that it is easier for consumers to fuel their vehicles, as they can visit a gas station and have a full tank in a matter of minutes rather than waiting for hours for their vehicle's battery system to charge up.
Fuel cell vehicles could draw more people into the clean transportation market
Clean vehicles are likely to continue gaining momentum in the coming year. Some automakers have plans to launch fuel cell vehicles later in the year, which could bolster clean vehicle sales by a significant margin. These vehicles will be available in only a few markets during their initial release and will have limited infrastructure support. They do, however, offer consumers an experience that is more akin with conventional vehicles that are powered by petroleum.