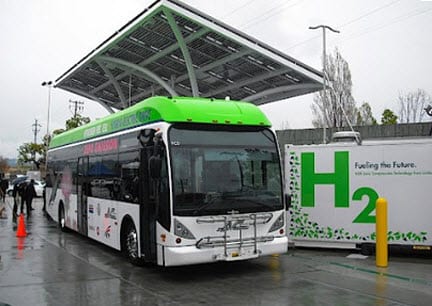 Safety of hydrogen fuel brought into the spotlight
July 28, 2012
Accident at AC Transit station in California hints at the potentially consequences of using hydrogen fuel
Hydrogen transportation is gaining traction all over the world, but hydrogen fuel is still being subjected to harsh criticisms. Much of this criticism is sparked by the volatile nature of hydrogen fuel. Critics of the alternative energy argue that vehicle accidents and technological faults could have disastrous consequences for consumers, but these consequences had not been experience until very recently. Nearly eight months after beginning operation, a hydrogen fuel system installed at the AC Transit bus station in Emeryville, California, hinted at the possible problems that could come from the use of hydrogen.
Station fire caused by malfunctioning valve
The station recently grabbed headlines due to a fire that broke out due to a technical malfunction. The event spurred an investigation from Sandia National Laboratories, which has released a report on its findings this week. According to the report, a malfunctioning valve caused hydrogen gas to leak into the air. This mixture was then ignited, causing a minor explosion. No one was injured in the event, but Sandia notes that it did rattle the nearby neighborhood and caused the closing down of some streets for safety reasons. The fire continued to burn for two days, but no significant damage was produced.
New procedures and technologies to be used to mitigate future incidents
Though investigators were able to track down the problematic valve, it is still unclear exactly what caused the malfunction. Repairs are currently underway to the station, which are being conducted with the possibility of future incidents in mind. AC Transit officials expect that the hydrogen fuel station will be fully operational again by sometime in September. The new station will feature a number of new procedures that are meant to address potential safety issues.
Auto industry continues to laud the safety of fuel cell and hydrogen fuel tanks
The safety of hydrogen fuel is often questioned, but safety concerns have not yet proved adequate enough to discontinue the use of the fuel. The auto industry, one of the primary advocates for hydrogen fuel, has demonstrated the safety of fuel cells and fuel tanks for several years in an attempt to alleviate the concerns of some consumers.
Related article(s) and resources:
http://www.contracostatimes.com/news/ci_21149278/wrong-valve-cause-fire-at-ac-transit-hydrogen