Solar energy demand to be driven by India, China, Japan
September 18, 2014
NPD Solarbuzz released new forecast concerning the demand for solar power
NPD Solarbuzz has released a new forecast of the global solar photovoltaic demand and how it is being driven by prominent markets in Asia. The forecast highlights India, China, and Japan as the markets that are leading the way in demand for solar energy and its associated products. These three countries have been showing a great deal of support for renewable energy in general, but solar power has garnered a significant amount of this support in recent years.
India may be home to the most noticeable growth in solar power demand
India is expected to see the most significant growth of its solar energy sector in the coming years, with China and Japan following. The forecast predicts that the solar demand in these three countries will double by the end of 2014. Growing demand is expected to lead to a faster production of photovoltaic products. It will also likely increase the funding that solar energy projects in these countries are currently receiving.
China continues to lead the way in the solar sector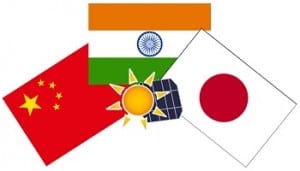 China is currently considered a leader in solar power. The country has regularly set clean energy capacity goals for itself that it has been able to meet with relative ease. Chinese manufacturers have played a major role in making photovoltaic products abundant throughout the world, which has also affected the overall price of solar power. In the coming years, China is expected to continue influencing the solar sector in a prominent way, as more countries begin using photovoltaic products that are developed in China.
Politics could slow the adoption of solar energy
Politics is one of the factors that is expected to have an impact on the growth of solar energy in the future. Unsupportive policies and regulatory uncertainty could slow the adoption of solar power. This can be seen in Australia, where the government recently reduced its support for clean energy while increasing its support for fossil-fuels. Trade disputes may also impact the growth of solar power. The U.S. is currently in the midst of a trade investigation concerning photovoltaic products produced by Chinese manufacturers.