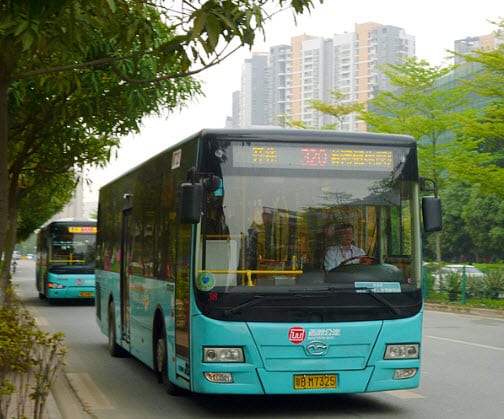 Solar powered buses make their way to China
August 1, 2012
China brings solar powered transportation into the limelight
China has been making headlines lately for its pursuit of alternative energy. The country has made significant progress in this field, making waves in the areas of solar, wind, and hydrogen power. Solar energy has been one of the country's primary focuses. China recently received its first ever solar-powered hybrid buses, which have been incorporated into the country's public transportation system. The bus has brought the use of solar energy in transportation into the limelight, drawing attention to the potential capabilities of a solar energy system in that field.
Buses expected to have a lifespan of 35 years
The buses are powered by solar panels that are installed on their roof. Manufactured by Heilongjiang Qiquar Longhua New Energy Automobile, the buses are expected to have a lifespan of more than 35 years due to their solar energy system. The solar panels harvest solar energy and feed this electrical power into lithium-ion batteries that are use to power the buses' motors. The buses currently operate in the city of Qiqihar, which is in the northeast of China's Heilongjiang province.
Solar-powered buses part of overarching plan to promote electric vehicles
Each bus can accommodate 100 passengers and consumes approximately 0.7 kilowatt-hours of electrical power every kilometer. The solar-powered buses are part of China's ambitious plan to make use of alternative energy in its public transportation system. The government has already invested more than $15 billion in establishing an electric infrastructure for new vehicles. Though the solar-powered buses will receive a large portion of the electricity they need from the sun, they will still need to make use of electric charging stations.
China may find success in solar transportation
This is a new direction for the country's interest in solar energy. Until recently, China's solar energy industry has been isolated to the manufacture of solar panels and the establishment of solar energy systems to power homes and the country's various industrial complexes. Solar-powered buses are a new endeavor for the country. Whether this endeavor will continue will depend on the success of the vehicles.
Related article(s) and resources:
http://cleantechnica.com/2012/07/30/china-gets-it-first-solar-powered-hybrid-buses/?utm_source=feedburner&utm_medium=feed&utm_campaign=Feed%3A+IM-cleantechnica+%28CleanTechnica%29