South Korea seeks to popularize fuel cell vehicles
March 18, 2015
Ministry of Environment commissions more research into fuel cell vehicles and hydrogen fuel
South Korea's Ministry of Environment has commissioned research regarding the popularization of fuel cell vehicles and a hydrogen fuel infrastructure. The government is looking to adopt a long-term plan concerning clean transportation and has a strong interest in fuel cell vehicles. This plan could be introduced in July of this year, after research into the popularization of hydrogen fuel is finished. This research will help the South Korean government understand how fuel cell vehicles can be made more attractive to consumers.
Agency plans to test 1,000 fuel cell vehicles powered by 10 hydrogen fuel stations
The Ministry of Environment has plans to increase its distribution goals regarding fuel cell vehicles. The agency aims to supply at least 1,000 of these vehicles to the public sector by 2020. These vehicles will be supported by 10 hydrogen fuel stations that will be open to the general public. In 2013, the agency had tested 100 fuel cell vehicles that were supported by 13 hydrogen fuel stations. Last year, these tests focused on just 12 fuel cell vehicles being supported by one hydrogen station.
Hyundai is working to bolster the fuel cell industry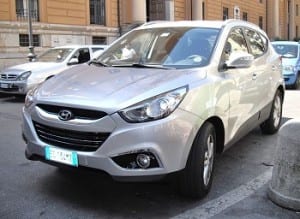 The endeavor could be affected by efforts from Hyundai, one of the country's leading automakers. The company announced in January that it will be working to transform Gwangju City into a base of operations for the hydrogen fuel cell industry in South Korea. Hyundai has been supporting the development of a working hydrogen fuel infrastructure in the country and has been lowering the price of its own fuel cell vehicle in order to make it more attractive to consumers.
South Korean government shows support for hydrogen fuel cells
South Korea's President, Park Geun-hye, believes that fuel cell vehicles are a good example of what transportation can become in the future. She has praised these vehicles as environmentally friendly and future-oriented. South Korea is quickly becoming a prominent market for hydrogen fuel cells, and not just in the transportation sector. Many businesses are beginning to turn to these energy systems to access clean power.