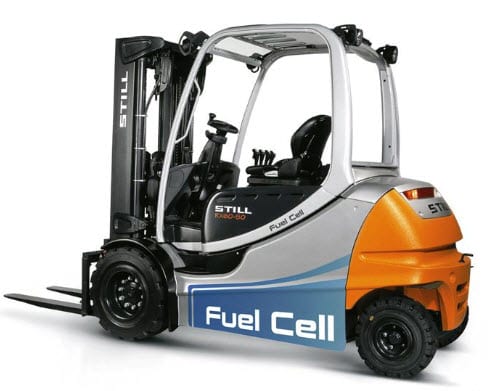 STILL GmbH announces new trials for hydrogen forklifts
October 26, 2012
STILL GmbH continues to show off hydrogen forklifts
Germany's STILL GmbH, a leading developer of materials handling equipment, has been showing off its latest hydrogen forklifts recently. The company attended the 29th German Logistics Congress in Berlin earlier this month, where it showcased many of its fuel cell-equipped forklifts. These vehicles, as well as the fuel cells they use, have been in development since 2002 and STILL GmbH believes that they are now ready for testing in the field beyond Germany.
Forklifts heading to Belgium for pilot project
STILL GmbH has kept the trials of its hydrogen-powered forklifts limited to the German market for nearly their entire existence. Now, the company is eager to extend trials beyond the borders of its home country, hoping to attract foreign interest in its clean materials handling vehicles. Since late September, two of the company's RX 60=25 forklifts have been inducted into a long-term pilot project in Belgium. The project is being championed by retail giant Colruyt. Colruyt produces the hydrogen needed for these vehicles on-site using both wind and solar energy, making this pilot project one of the most environmentally friendly of its kind in the world.
STARK to test four new hydrogen-powered forklifts
Four new hydrogen-powered forklifts from STILL GmbH are to be transported to Denmark later this month, where they will be used by hardware store chain STARK. STARK will be testing the forklifts to see how the vehicle fit into the company's plan to become more environmentally friendly. Like other companies around the world, STARK is looking to comply with strict emissions standards coming from the government of its home country. Thus, the need to adopt more efficient materials handling vehicles is becoming more difficult to ignore.
STILL GmbH to collect data to improve vehicles
STILL GmbH will collect data from the trails of its hydrogen forklifts and use  this information to improve the vehicles, if necessary. In German trials, the vehicles have proven both efficient and powerful and STILL GmbH believes that they could quickly become an attractive option in the materials handling space, which is growing more environmentally conscious with each passing day.