Strict water conservation rules approved in California
March 20, 2015
Another year of severe drought has lead to state officials taking emergency steps to conserve water.
Earlier this week, the administration of Governor Jerry Brown imposed new mandatory water conservation rules that will impact millions of people in California, including homeowners, restaurants, and hotels, in an emergency effort to conserve the state's decreasing water supply as it enters into its fourth year of severe drought.
The California Water Board approved regulations stricter than those enforced during the 1977 drought.
The new water conservation rules are more severe than those imposed during the 1977 drought, which is thought to be the worst drought in the state's history.
However, chairwoman of the State Water Resources Control Board, Felicia Marcus, said that in spite of some residents doing their best to conserve water, "we are not seeing the efforts to step up and ring the alarm bells that the situation warrants." Marcus added that "We're going to need to go further if it doesn't rain."
The water conservation rules are a step in the right direction but may not be enough if the drought continues.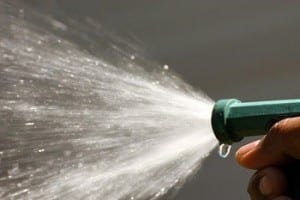 Some of the more specific rules that were revealed this past Tuesday include:
• Residents are banned from watering lawns with potable water within 48 hours following measurable rainfall.
• Restaurants, bars, and hotels are banned from serving water unless a patron requests it.
• Hotels and motels are required to provide signs in rooms informing guests that they can choose not to have towels and/or linens washed every day.
• Cities, counties, water districts, and private companies must limit lawn watering to two days per week if lawn watering is not already limited.
Not adhering to these rules can result in fines as high at $500. However, enforcing the rules is left up to local cities, counties, and water districts.
Critics have said that the rules are a positive step forward, but are not enough without stronger enforcement to prevent water shortages, especially if the drought continues past the summer.
Conner Everts, with the non-profit group, California Environmental Water Caucus, said that "At what point do we accept that this might be the fourth year of a 10-year drought and plan for that?"
The new water conservation rules will come into effect on April 15.