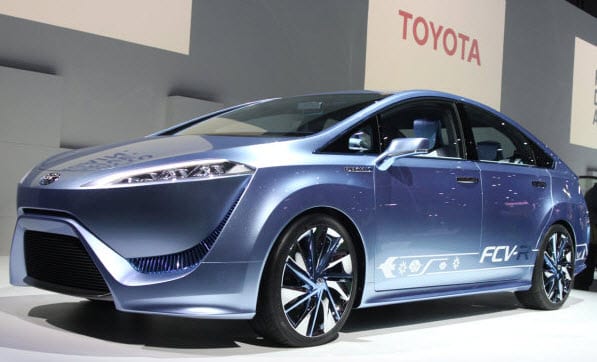 Toyota embraces hydrogen as one of its primary fuels, plans to release hydrogen-powered vehicles in 2015
March 7, 2012
Japanese automaker Toyota has long been a staunch advocate of hybrid and battery-powered vehicles.
The company has remained true to its adherence to hybrids and pure electrics even while most of the auto industry adopted hydrogen with open arms. As its competitors gained acclaimed and a great deal of attention for their use of hydrogen fuel cells, Toyota was left in the dark. Now, however, the automaker has also taken up hydrogen as one of its favored fuels and plans to establish itself as a leader in the changing industry once again.
Toyota recently unveiled their new FCV concept, which is powered exclusively by hydrogen and fuel cells.
The company had been working on the concept since 1992, but there was little interest in it because hydrogen was still considered a fuel that would be viable centuries later. The FCV is quickly becoming Toyota's new flagship vehicle in terms of renewable fuel and energy efficiency, however, largely due to the popularity currently surrounding hydrogen transportation.
The automaker has plans to release the FCV in the European, Korean, Japanese and United States markets in 2015.
The company will also be working to help establish a comprehensive hydrogen fuel infrastructure that will be needed to support a massive number of hydrogen-powered vehicles. The company has already built a station near its U.S. headquarters in California and will continue its efforts in the state to promote alternative energy.