Toyota is concerned over lack of a hydrogen fuel infrastructure
March 6, 2015
Toyota wants to see more hydrogen fuel stations built in prominent markets
Japanese automaker Toyota has plans to launch its new hydrogen-powered vehicle, called the Mirai, throughout the world in September of this year. The fuel cell vehicle is already available in Japan, where Toyota has had to increase production of the Mirai in order to keep up with demand. Approximately 100 of these vehicles will be sold in Europe during the first two years of its launch, but Toyota has expressed concerns regarding the lack of a hydrogen fuel infrastructure in many markets.
The Mirai is coming to Europe and is likely to find success in London
The majority of the vehicles that Toyota is bringing to Europe are expected to be sold and operated in and around London. The United Kingdom is expected to play a significant role in driving the adoption of fuel cell vehicles. The country serves as a prominent market for the auto industry and many consumers have expressed interest in purchasing clean vehicles from various companies. The UK government has also been investing in the development of a hydrogen fuel infrastructure, but building new hydrogen stations has proven to be a time consuming and difficult process.
The UK may have as many as 70 hydrogen fuel stations in operation by 2020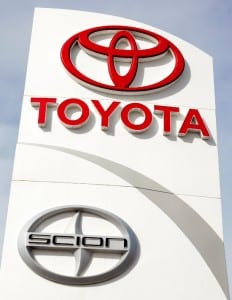 There will be approximately 15 hydrogen fuel stations in operation throughout the United kingdom by the end of 2016. The government has invested nearly $15 million toward the construction of these new fueling stations and predicts that there will be as many as 70 hydrogen fuel stations offering service to the public by 2020. Currently, the country only has three hydrogen stations that can be used by the public, which may be enough to support the very limited adoption of fuel cell vehicles.
Lack of hydrogen infrastructure could slow the adoption of fuel cells
Toyota believes that more work should be done to build a hydrogen fuel infrastructure, but the company can only do so much to support such efforts. Toyota notes that it has seen relatively little involvement from oil companies, some of whom had shown interest in hydrogen fuel. Toyota believes that fuel cells are the way of the future, but it could take several years before these energy systems become mainstream.