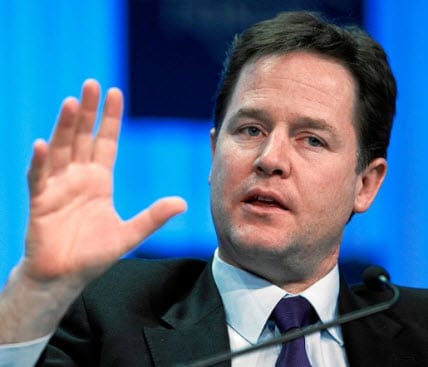 UK to track emissions of 1,800 British firms
June 23, 2012

Deputy Prime Minister announces new plan for emissions tracking
The Rio+20 summit has just finished up and much of the world's attention is being drawn to the conference as world leaders reveal their plans for the future of the environment. This week, UK Deputy Prime Minister Nick Clegg announced that the country would be taking a bold step in keeping companies accountable for their carbon emissions. Clegg notes that the new initiative coming from the UK will track the emissions from the 1,800 firms listed in the London Stock Exchange's Main Market.
UK becomes first country to enact an emissions tracking initiative
The initiative is aimed highlighting areas of growth and savings that can be made through the practice of energy efficiency. The United Kingdom is the first country to adopt such a practice, but may not be the last depending on the performance of the initiative. Emissions data will be included in the annual reports produced by British companies, information that is available to the public and often used by investors to determine their actions. The initiative is currently slated to begin in April 2013.
Plan could bring about economic growth
Clegg notes that it is imperative that British companies begin making efforts to reduce their greenhouse emissions. The Deputy Prime Minister believes that the new initiative will help these companies reduce their emissions as it will provide them with a valuable economic context concerning CO2 and its potential impact on the planet. Clegg believes that the initiative will help companies save a significant amount of money in terms of energy costs in the long-term.
Regulators to keep track of the performance of the emissions plan
UK energy regulators have been developing the initiative for several years. Once the plan is enacted in April 2013, regulators will review the effects that the initiative have had in 2015. During this review, regulators will determine whether the plan will continue and be expanded to include all companies, large and small, in the United Kingdom.
Related article(s) and resources:
http://cleantechnica.com/2012/06/21/all-1800-british-firms-report-greenhouse-gas-emissions/?utm_source=feedburner&utm_medium=feed&utm_campaign=Feed%3A+IM-cleantechnica+%28CleanTechnica%29