US solar energy industry to see record growth this year
September 11, 2015
Report highlights the growth of the country's solar power capacity
The U.S. solar energy industry is set to see another record year by the end of 2015, according to a new report from Solar Energy Industries Association. The report shows that total solar installations now surpass 20 gigawatts in capacity, with another 7 gigawatts of capacity expected to be installed by the end of the year. This capacity generates enough energy to power approximately 164,000 homes throughout the country. As capacity grows, the U.S. is expected to become less reliant on fossil-fuels in the future.
Residential solar energy is becoming more popular
The report shows much of the growth that the solar industry has experienced has come from the residential sector. Rooftop solar installations have increased by 70 year-over-year, with some 473 megawatts f residential solar energy capacity being installed in the second quarter of this year. Homeowners have shown favor for solar energy because it allows them to save money. Solar developers have made it easier for homeowners to take advantage of solar power through innovative financing options that mitigate the financial burden associated with photovoltaic installations.
7.7 GW of capacity expected to come online by the end of the year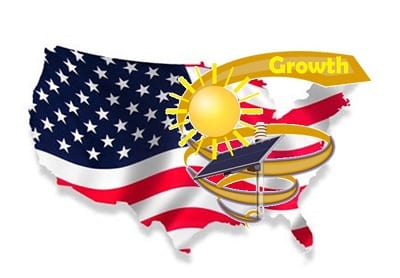 Last year, some 6.2 gigawatts of solar capacity was installed throughout the United States. By the end of this year, an estimated 7.7 gigawatts of capacity is expected to be installed. Several utility-scale projects are set to come online in the coming months and more homeowners than ever are beginning to embrace solar energy systems.
Support for solar energy continues to grow across various sectors
Support for solar power has been growing quickly throughout the country. The government has invested in a wide variety of projects in order to become more environmentally friendly and reduce its reliance on fossil-fuels. The private sector has also begun showing more support for solar energy, investing heavily in various projects that show promise in significantly increasing the solar capacity of the United States. In the coming years, solar energy is expected to become a primary source of power for the country.