Voters are showing strong support for wind energy
September 7, 2016
Wind power continues to prove favorable among consumers
Support for wind energy among voters in the United States continues to grow, according to the American Wind Energy Association (AWEA). The organization has reported that 70% of registered voters throughout the country have a favorable outlook on wind power. AWEA commissioned a poll from research firm SSRS in order to gauge interest in wind power among consumers. The poll found that support for this form of renewable energy continues to grow despite some environmental concerns.
Poll shows that many voters continue to show support for wind energy
The latest poll highlights an ongoing trend among consumers. As the demand for clean energy continues to rise, many consumers are beginning to show favor for wind farms. As a result, utilities are beginning to feel pressure from consumers to derive electrical power from wind turbines. This is good news for wind developers, as more of these companies are entering into long-term power purchase agreements. Per these agreements, wind developers sell the electricity they produce to utilities and other companies that are interested in wind energy.
Politicians may need to start showing more support for wind power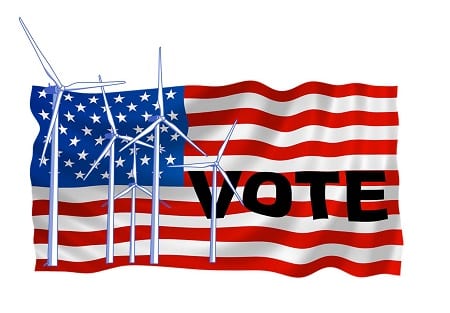 Polling results among voters may have some political impact. Candidates running for office, regardless of their political affiliation, may choose to support wind energy more aggressively. Candidates cannot ignore the growth of wind power much longer, as wind capacity has more than tripled over the past eight years. This growth has had an economic impact and has helped the U.S. further distance itself from fossil-fuels. The wind energy market currently represents billions of dollars in investments and wind technicians are in extremely high demand.
Offshore wind power is gaining momentum
Wind energy is expected to continue seeing a growth in support among consumers, especially those interested in saving money on electricity. Notably, offshore wind energy is gaining more traction in the U.S. Offshore wind farms have the potential to generate massive amounts of electrical power, which makes them an attractive prospect for states near large bodies of water.