Wind turbine energy plans still a go in Indiana
April 22, 2014
The construction of Purdue Energy Park is set for this summer.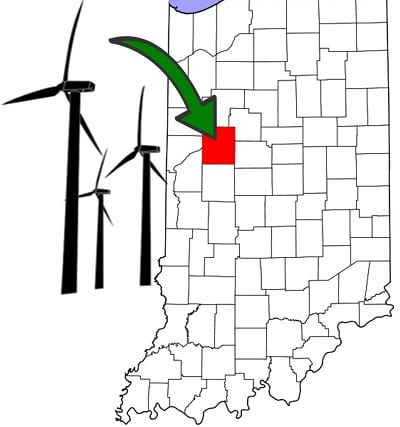 The wind turbine energy project has been in the works for years and building may finally begin in the summer, with the northwest side of Tippecanoe County designated as the site where Indiana's new wind farm will be developed.
The wind farm will be a 20-megawatt (MW) project.
The wind park that will now be built is five times smaller than the initial project plan that was developed by Performance Services back in 2005. Plans for the farm were halted due to certain issues that brought wind energy into question. It was not until 2011 that plans once again resumed in full swing. Presently, General Electric (GE) and Juhl Energy are involved in the project with Performance Services.
Performance Services' business development manager, Tony Kuykendall, has said that the project has been in development "for almost three-and-a-half years so it's been a long time coming." He also said, "We've had to make a lot of changes to keep the project alive. It's been a very, very difficult time for power purchase agreements."
Purdue University has no financial connection to the $40 million wind turbine energy project.
Other than its name, the University has no other link to the commercial wind power park that is to be built. Although the farm was initially planned to be constructed on its property, the project site has been moved to property that boarders Purdue's Animal Sciences Research and Education Center. According to Ken Sandel, Purdue's direction of physical and capital planning, by being associated with the project, Purdue University can take part in renewable energy research linked to the park.
The wind energy park will be home to twelve, 1.7 MW wind turbines from GE. The power that is generated from the turbines will be purchased by two utility companies in the state with distribution happening in central Indiana.
Once they have won the approval from Tippecanoe County Board of Zoning Appeals, the developers can begin building Purdue Energy Park in July or August. If all goes well, they could be producing wind turbine energy before the end of the year.