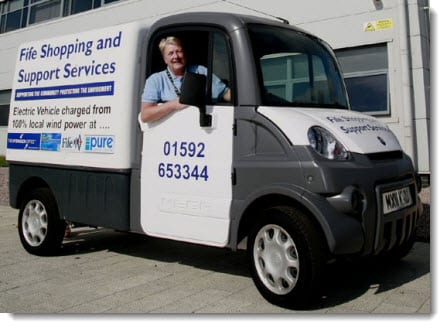 World's first wind powered van shows up in the UK
October 17, 2011
The world's first electric van powered by wind has been spotted in the United Kingdom.
The van belongs to Fife Shopping and Support Services, a grocery delivery service that caters to the elderly community. Wind is not the only thing that powers the van, however, as a complex hydrogen fuel system is also involved. Nonetheless the van is the very first vehicle in the world to derive power from a hybrid, self-sustaining alternative energy system that has no impact on the environment.
The van gets its fuel from the Methil Hydrogen Office in Fife, UK. The office uses a massive wind turbine to generate electricity which is used in a hydrogen fuel cell to create hydrogen from electrolysis. The hydrogen is then funneled to a storage tank that is stored off-site.
The van powers its battery from the electricity generated by the hydrogen.
The system can generate and store electric power for up to two weeks without any wind, meaning the van will have a reliable fuel source even on doldrum days.
Energy Minister Fergus Ewing praised the Hydrogen Office and Fife Shopping and Support Services for displaying how alternative energy can be used to power everyday business. The minister noted that the energy system at work shows the viability of renewable fuel, especially when used in transportation and expressed a desire to see more companies taking such bold steps in their adoption of alternative energy.