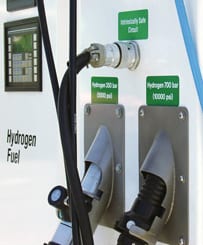 Air Products unveils new hydrogen fuel dispenser
June 15, 2013
Air Products introduces new tool for the hydrogen fuel infrastructure
Air Products, a leading producer of industrial gasses and pioneer in the realm of hydrogen fuel technology, has unveiled its new consumer-friendly hydrogen fuel dispenser. The company has long been involved in hydrogen fuel and has been a strong supporter of infrastructure efforts that have emerged around the world. Infrastructure is considered to be the foundation upon which hydrogen-based transportation will find success. Air Products believes that its new fuel dispenser will help comprehensive infrastructures take form in the future.
New dispenser developed to be familiar with consumers
According to Air Products, its new fuel dispenser is the first fully-integrated hydrogen dispenser to reach the market. The company designed the dispenser with consumers in mind, noting that most consumers are familiar with fuel dispenser that focuses on the use of gasoline. Creating a system that resembles those that consumers are already familiar with could be an effective way to dispel some of the skepticism that consumers have regarding hydrogen fuel.
New system could be a boon for infrastructure efforts
The new system developed by Air Products will serve as a fuel source for hydrogen-powered vehicles and other purposes. Consumers with these vehicles will be able to use the dispensers in order to keep their cars fueled, and the dispenser may see similar use in the realm of public transportation. With hydrogen-powered vehicles on the horizon, the need to build a comprehensive infrastructure capable of supporting them is becoming more apparent. Air Products is poised to ensure that such an infrastructure takes form in the near future.
Infrastructure may be the key to success for a new generation of vehicles
A working hydrogen fuel infrastructure could mean the difference between the success and failure of hydrogen transportation in the coming years. Many consumers have remained skeptical of hydrogen-powered vehicles because of how difficult these vehicles would be to fuel. While the fueling process itself is not overly difficult, as it is nearly identical to the fueling process of conventional vehicles, finding a hydrogen fuel station open to the public can often be challenging.