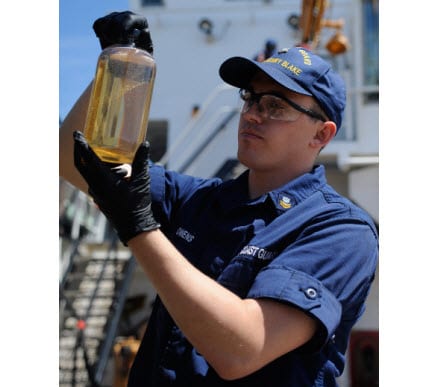 Biofuels find a home within the U.S. Coast Guard
June 27, 2012
Military continues its experimentation with alternative energy
The U.S military is no stranger to alternative energy. Lead by the Department of Defense's aggressive energy plan, the country's armed forces have been experimenting with ways to incorporate alternative energies, such as solar and hydrogen fuel cells, for some time. Biofuels, in particular, have been getting a great deal of attention from the Navy, Army, and Air Force recently, each launching their own projects to examine the capabilities of the fuel. The U.S. Coast Guard has also taken a keen interest in biofuels, using them to power the ship Henry Blake on its maiden voyage.
Henry Blake combines diesel with biofuel
The ship makes use of a 50/50 blend of biofuel and conventional diesel. The Henry Blake was chosen for this fuel blend because of its classification as a "cutter" ship. According to the Coast Guard, a cutter is any seafaring vessel that is over 65 feet long. These types of ships are believed to be an ideal test vehicle for biofuels and other forms of clean energy. The Henry Blake serves as a law enforcement vessel and will be used to conduct search-and-rescue missions in the future.
Successful voyage could open the way for further use of biofuels
The biofuels used to power the Henry Blake were derived from algae. The algae biofuel is mixed with conventional diesel to create a cleaner burning energy source for the ship. The Henry Blake is the first ship in the Coast Guard to make use of the fuel blend, but is not likely to be the last. According to Coast Guard officials, the maiden voyage of the vessel was a success. This success is expected to pave the way for the use of biofuels in the future.
Navy to use Henry Blake data for future exercises
The data collected through the maiden voyage will be used by the Navy during its participation in the upcoming Rim of the Pacific international maritime exercises. The Navy plans to send a Green Strike Group, a fleet of ships and aircraft that are powered by non-petroleum fuels, in order to show off the viability of biofuels and other forms of clean energy. The Green Strike Group will serve as a precursor to the Great Green Fleet, which the Navy expects to launch at some point in 2016.
Related article(s) and resources: