Fracking could be hazardous to health, warns university study
August 20, 2014
Drilling for natural gas via hydraulic fracturing without proper safeguards may lead to health problems.
A recent University of Maryland (UM) study that comes from the Maryland Institute for Applied Environmental Health, part of the UM's public health school, cautions that the practice of fracking might be harmful to the health of workers, residents, and communities in Western Maryland, if adequate safety measures are not put into place.
Air pollution caused by gas development could harm drilling crews and local residents.
The study, which was released earlier this week, also warns that hydrofracturing's potential negative impact could also put strain on healthcare systems in Garrett and Allegany counties. In addition, the study forecasts the likelihood of problems with soil, water and noise pollution.
However, the authors of the report do not necessarily predict that all of these problems will occur in Maryland and the reason for this is that they anticipate that regulations within the state will be stricter than other US states where fracking takes places. That being said, they are urging state officials to address every potential impact before they make the decision to permit drilling in Maryland.
Some believe that more research needs to be conducted to determine fracking health risks.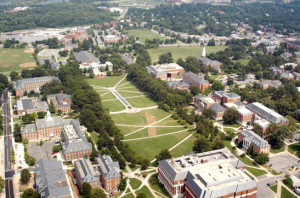 The UM study, which was commissioned by the Maryland Department of the Environment and state Department of Health and Mental Hygiene, provides 52 recommendations for evaluating and offsetting possible impacts. It advises that it should be mandatory for drilling companies to reveal all chemicals that will be used in fracking. It also urges to restrict injecting wastewater into the ground and suggests that further study be conducted to determine just how far drilling should take place from residential areas.
The report was not well received by everyone, however. Chesapeake Physicians for Social Responsibility Executive Director Tim Whitehouse said that "If Maryland decides to allow hydraulic fracturing, this report places a heavy burden on the state to demonstrate that it can adequately address these health concerns."
Furthermore, the executive director of the Maryland Petroleum Council Drew Cobbs, said that in regard to assessing health risks, the university's report did not seem to take into account the recent alterations in state regulations and industry practices. Also, the director of the Maryland Environmental Health Network, Rebecca Ruggles, said the study left many questions about potential safety and health problems unanswered. She requests for the state to continue research before giving the green light to fracking.