Fracking agreed to be kept off November ballot in Colorado
August 6, 2014
A last minute deal made between two of the state's top democrats lead to the withdrawal of two anti-fracking initiatives.
On Monday, at a press conference, Democratic Representative Jared Polis announced that he would drop his support for ballot initiatives that would restrict fracking in Colorado, which came as quite a relief to fellow Democrats who were concerned that the ballot initiatives would have cost them votes in the fall elections.
The congressman intends to support a new plan from Colorado Governor, John Hickenlooper.
Rep. Jared Polis was a strong supporter of the anti-fracking initiatives and had spent millions of his own money to back the effort. However, Polis will now support a new plan from the state's governor, which involves the state legislature addressing the concerns residents have in regard to natural gas and oil drilling in the best ways possible as advised by a commission.
In a televised conference, Hickenlooper stated that he put a task force together that included representatives from environmental groups, industry and local communities to set standards for Colorado's expanding petroleum industry.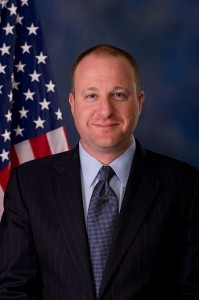 The governor said in a broadcast by Denver's CBS station that it "will provide an alternative to ballot initiatives that, if successful, would have regulated the oil and gas industry through the rigidity of constitutional amendments and posed a significant threat to Colorado's economy."
Oil and gas companies believed that the initiatives would have prevented several fracking projects in Colorado or halted the practice completely.
Politics over hydraulic fracturing have become quite tense in Colorado, with many Democrats wanting the practice limited while others wanting to eagerly back the industry. The congressman's initiatives would have given local government greater control over energy projects and made it mandatory for all new gas and oil wells to be drilled a minimum of 2,000 feet away from hospitals and homes.
Gas and oil companies were prepared to defeat the initiatives by pouring $20 million in Colorado; initiatives they said would have halved or stopped fracking in the state. According to the Colorado Petroleum Association, in 2012, hydraulic fracturing produced $29.5 billion in the state's economic activity. It led to the creation of 110,000 direct jobs with the average wage amounting to over $74,000.