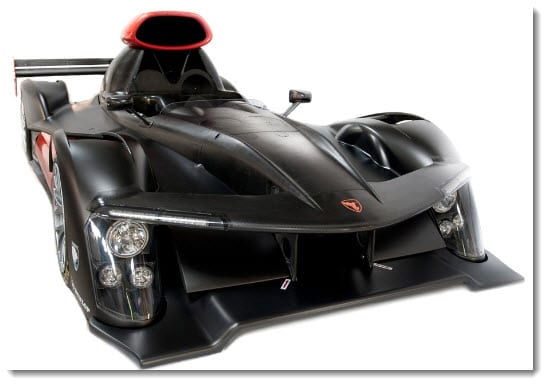 GreenGT racecar to compete at 2013 Le Mans event
September 6, 2012
GreenGT performs well at 2012 Le Mans race
Earlier this year, the GreenGT LMP hydrogen-powered racecar made its first appearance at the 2012 Le Mans endurance race in France. The vehicle was designed by GreenGT, a Swiss company that has a history of developing avant-garde racecars. The GreenGT racer competed in this year' Le Mans in a special category that had it go head-to-head with other alternative energy vehicles. The GreenGT performed so well that the team behind it has announced the hydrogen-powered racecar will be competing in the 2013 Le Mans event.
Hydrogen-powered racer may be the future of motorsports
The GreenGT racer is equipped with a 300 kilowatt hydrogen fuel cell and two 10,000psi fuel tanks. The vehicle is able to reach speeds of 186 miles per hour and is capable on running for 40 minutes per full tank of fuel. Because the GreenGT runs on hydrogen, it produces no harmful emissions, making it one of the cleanest racecars in the world of motorsports. The team behind the GreenGT racer believes that the vehicle represents the future of motorsports.
Vehicle to receive a number of upgrades
The GreenGT will receive a variety of upgrades to prepare it for the 2013 Le Mans competition. The vehicle will be fitted with high-performance Dunlop tires that are designed to boost its fuel efficiency. The GreenGT is also expected to make use of an upgraded hydrogen fuel cell that is capable of producing more energy for the racer's electric motors. The GreenGT will not have to worry about any shortfalls in France's hydrogen fuel infrastructure as fuel will be made available for the vehicle on-site.
GreenGT is not the only hydrogen-powered vehicle to compete in Le Mans race
Though the GreenGT has managed to garner a great deal of acclaim in the world of motorsports, it is not the first of its kind. Mazda has a racecar called the RX-8 RE that has run Le Mans in past competitions and is also powered by hydrogen fuel. The GreenGT is the only hydrogen-powered racecar that is built with the Le Mans competition in mind, however, and is expected to continue offering attendees an entertaining show when it takes to the track again next year.