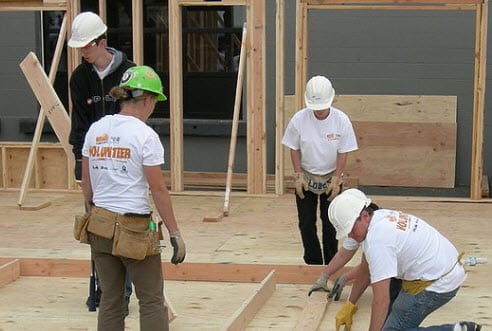 Habitat for Humanity embraces solar energy
November 7, 2012

Habitat for Humanity teams with Pacific Gas & Electric and the City of Oakland
Habitat for Humanity, a non-profit housing organization, is well known for buildings homes for the less fortunate. The organization operates all over the world and has been a major benefit for low-income families that are under constant threat of homelessness. Habitat for Humanity has garnered acclaim for its efforts and now the alternative energy community is adding to this praise as the organization begins to embrace solar energy. Habitat for Humanity has teamed with California's Pacific Gas & Electric and the City of Oakland to bring solar energy to affordable housing.
New housing project to make use of solar energy systems
Habitat for Humanity is now participating in the development of a new, low-income housing project that will be located in District Seven of Oakland, California. The homes included in the housing project will be equipped with solar panels on their roofs, which will help meet the energy needs of homeowners in the area. The solar panels are expected to make the new homes much more affordable as they will significantly cut the price residents will have to pay for their electricity.
New energy systems to save homeowners significant money on utility bills
The solar energy systems affixed to homes in District Seven are expected to save homeowners more than $500 a year on energy costs. Each solar panel equipped to a home will remove an estimated 132,000 pounds of carbon dioxide from the environment over 30 years. Homes are expected to host several solar panels to meet their energy needs.
Price for solar energy technology continues to fall
One of the reasons Habitat for Humanity has chosen to support solar energy is because of the rapidly dropping price of solar technology. As this technology becomes more affordable, solar energy systems become an attractive option for homeowners looking to mitigate the often costly impact of utility bills. Solar energy may be a perfect tool for Habitat for Humanity's continued effort to provide low-income families with housing that they can afford to maintain without the constant worry of being crushed under the weight of financial problems.