Honda shows off new fuel cell vehicle at G7 Summit
May 31, 2016
Honda has showcased the latest version of its Clarity model
Japanese automaker Honda has put its new fuel cell vehicle on display during the Group of Seven (G7) Summit in Japan. The new vehicle is an updated version of the automaker's existing Clarity, and is powered by a hydrogen fuel cell. Honda opted to showcase the vehicle at the G7 Summit in order to display the performance of fuel cells and how they can be used in the transportation sector.
Honda is one of the few companies that offers vehicles equipped with hydrogen fuel cells
Japan is expected to become a prominent market for clean vehicles in the coming years. Many electric vehicles are already available in the country, but fuel cell vehicles are still in short supply. Few automakers have managed to bring these vehicles to the commercial market, though most are working on developing such vehicles. Honda is one of the first companies to successfully bring a fuel cell vehicle to the market and the company has been working to develop better fuel cell technology in order to accommodate the needs of drivers.
New Clarity will feature advanced fuel cell technology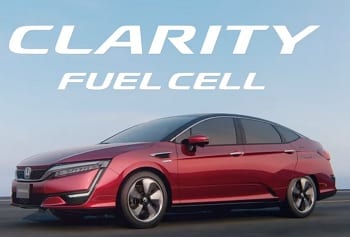 The new Clarity is expected to be launched later this year. The vehicle will feature a more capable fuel cell systems, allowing it to operate more efficiently than its predecessor. In 2014, Honda discontinued production of the current Clarity model. The company announced earlier this year that the new Clarity model will take its place, featuring new technology. Honda is also developing hybrid versions of its Accord line of vehicles.
Infrastructure support is needed to secure the success of fuel cell vehicles
Fuel cell vehicles have begun to gain significant popularity among consumers, but many have expressed concern over how they will fuel these vehicles. Most of the world lacks a comprehensive hydrogen infrastructure, which means that it will be difficult for drivers to fuel their clean vehicles. Honda has been investing in the development of hydrogen fuel stations for some time, hoping to help establish a comprehensive infrastructure in order to secure the success of fuel cell vehicles.