HP to further reduce its carbon footprint with its latest renewable energy agreement
July 23, 2015
HP has announced an agreement with SunEdison to power its Texas data center with wind energy.
The Hewlett-Packard Company (HP) recently announced that as part of its continual efforts to reduce its carbon footprint, it has signed a 12-year power purchase agreement for 112 megawatts (MW) of wind energy from a SunEdison wind farm that is expanding in Texas, and the power produced from this renewable energy source is enough to power 100% of HP's Texas data center operations.
Equally, this is enough energy to power 42,600 homes annually.
By purchasing and using the power that is generated by wind, HP will avoid using 340,000 tons of carbon dioxide (CO2) each year.
Gabi Zedlmayer, vice president and chief progress officer, Corporate Affairs, HP, said "This agreement represents the latest step we are taking on HP's journey to reduce our carbon footprint across our entire value chain, while creating a stronger, more resilient company and a sustainable world."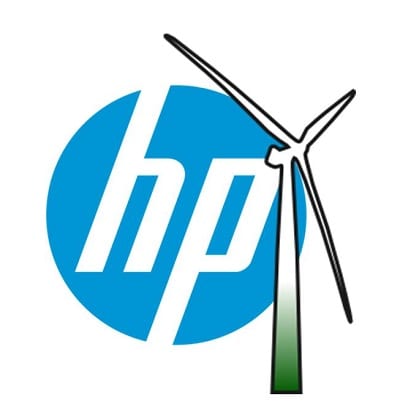 This is HP's first utility-scale renewable power purchase and it shows that the information technology company is working hard to improve its green image and develop a sustainable cloud. Its clean goals include deploying the most efficient data centers in the world, such as its EcoPod240a, its innovating breakthrough energy-optimized technology like HP Moonshot servers, and advancing the amount of renewable energy supply available to the energy grid.
The renewable energy agreement will enable HP to reach its 2020 operational GHG emissions reduction goal five years earlier.
SunEdison's Americas and EMEA executive vice president, Paul Gaynor, commented that "Wind generated electricity represents a good business opportunity for Texas and for HP." Gaynor said that HP is taking a vital step toward a "clean energy future" while at the same time lowering its operating costs.
Gaynor added that SunEdison's agreement with HP allows SunEdison to build its South Plains II wind farm in Texas, which will generate 300 MW of power when it is completed, and will also lead to the creation of many valuable jobs.
In fact, the renewable energy project is expected to create more than 400 local construction jobs, as well as 15 permanent jobs once the wind farm is completed. In addition, the project will provide other benefits including notable local economic benefits, such as property tax revenues and land lease payments. It will ensure that Texan electricity customers will receive cost-effective energy.