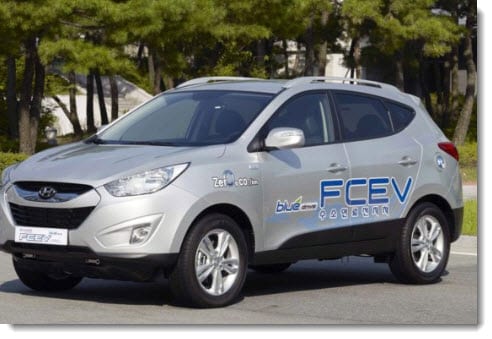 Hyundai gains more momentum for hydrogen transportation
September 12, 2012
Hyundai becoming more popular in Europe
South Korean automaker Hyundai has ambitious plans for hydrogen transportation, which seem to include being the first in its industry to commercialize a hydrogen-powered vehicle. The company has been promoting its hydrogen-powered SUV, the Tucson ix35. The vehicle has been spotted all over the world, but nowhere has it received as much favor as it has seen in Europe. Indeed, Hyundai has become a very popular company in the European market because of its hydrogen-powered vehicle, a fact that may translate into significant success when the vehicle is finally released.
Hydrogen transportation gaining traction in Europe
In Europe, Hyundai has been working to promote the prospects of hydrogen transportation. The company has made note of the efficiency and environmental friendliness of hydrogen-powered vehicles. These vehicles are equipped with fuel cells, which use hydrogen gas to produce electricity. The byproduct of this process is water vapor and oxygen. This means that vehicles equipped with fuel cells meet even the most stringent emissions standards. In terms of transportation, hydrogen fuel is often considered more affordable than traditional petroleum, but the lack of a sufficient fuel infrastructure has kept hydrogen transportation in obscurity.
Strong partnerships with European governments could lead to success
Hyundai has made a strong impression with its hydrogen-powered vehicle. The Tucson ix35 was recently chosen to be the official business vehicle of the German government and will serve in the same capacity in Scotland as well. Last year, Hyundai entered into an agreement with four European countries – Norway, Sweden, Denmark, and Iceland – which secured the coming of hydrogen-powered vehicles to these countries. The automaker is currently working with Kia to bolster the hydrogen fuel infrastructure of Europe and introduce new vehicles to the market.
Hyundai may be the first to commercialize a hydrogen vehicle
Hyundai may be the first company in the auto industry to successfully commercialize a hydrogen-powered vehicle, even without the support of an expansive hydrogen fuel infrastructure. The company currently plans to release the Tucson ix35 in 2013, if not by the end of this year. According to the automaker, the Tucson ix35 will be sold for between $80,000 and $100,000, approximately half of what Mercedes-Benz plans to charge for its hydrogen-powered vehicle.