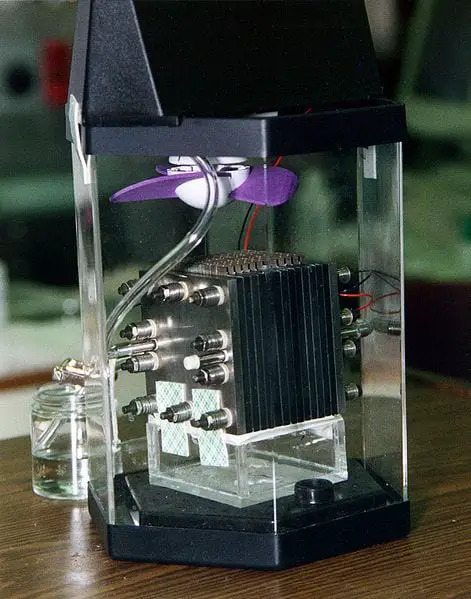 Methanol fuel cells may see a future in electric vehicles
April 18, 2013

Oorja aims to bring methanol fuel cells to clean transportation
Oorja Protonics, a developer of methanol fuel cells, has announced its partnership with the U.S. Lawrence Berkeley National Laboratory. Through a Memorandum of Understanding with the laboratory, Oorja will help develop a manufacturing process that could make methanol fuel cells more popular in the field of transportation. Currently, much of the auto industry is enthralled by the prospects of hydrogen fuel cells, but methane may be an adequate alternative to hydrogen in many cases, especially where clean transportation is involved.
Company aims to improve manufacturing process
Oorja will focus much of its attention on membrane electrode assembly; assembled stacks of proton exchange membranes or other exchange membranes, catalysts, and flat plate electrodes that are used in most conventional fuel cell systems. The goal is to achieve higher levels of  material performance compared to conventional assemblies. To accomplish this, Oorja is expected to address issues concerning the fuel cell manufacturing process, hoping to find breakthroughs that will lead to less expensive methanol fuel cells as well as expediting their entry into the global market.
Electric vehicles could benefit from methanol fuel cells
This initiative has a particular focus on clean transportation. Electric vehicles are becoming more popular, but many people still have reservations concerning their performance and efficiency. Electric vehicles are often criticized as having poor operational range, but Oorja may be able to put those concerns to rest with its methanol fuel cells. The company anticipates that its methanol fuel cells will serve well as range extenders for electric vehicles. With guaranteed longevity, electric vehicles are likely to see faster adoption in several markets.
Research may see progress through partnership with Oorja
Researchers from the Lawrence Berkeley National Laboratory are expected to benefit from a partnership with Oorja. The company has extensive experience in the fuel cell market, providing researchers with valuable information concerning the wants and needs of the market in its current state. The company's experience with fuel cells is also expected to contribute heavily to research into the technology and how to improve these energy systems.