New offshore wind energy projects coming to Japan
February 17, 2015
Marubeni to develop offshore wind projects in Akita Prefecture
The Marubeni Corporation has been awarded a contract to develop a new offshore wind energy system in Northern Japan. The project will take root off the coast of the Akita Prefecture, where  there is considerable wind potential. Marubeni will be developing two offshore wind farms, one of which will be located near the Akita port. The other will be located near the Noshiro port. Both of these locations are considered major ports for Japan.
Projects will produce a combined total of 145 MW of electrical power
The offshore wind farm that will be built near the Akita port will be comprised of 13 wind turbines. The wind farm will have a maximum energy capacity of 65 megawatts. The energy system is expected to generate enough electricity to power 58,000 average homes, if there is an ample supply of wind. The wind farm is expected to begin generating electrical power at some point in 2021. The other wind farm, which will be located near Noshiro port, will have a maximum energy capacity of 80 megawatts and is also expected to begin producing power in 2021.
Japan is home to 750 GW of wind energy potential, mostly found offshore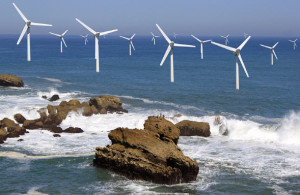 According to reports from the Japan Wind Power Association, the country has some 750 gigawatts of wind energy potential. The majority of this potential, approximately 600 gigawatts, can be found at sea, where wind currents are strongest. Currently, less than 1% of Japan's energy comes from its wind resources, but wind has the potential to satisfy much of the country's energy needs if more effort were put into developing new projects. One of the challenges facing the development of these projects has to do with the impact offshore wind energy systems can have on the country's fishing industry.
Japan continues to show strong support for renewable energy
While wind power is growing somewhat slowly in Japan, the country is focusing on other forms of renewable energy. Solar power has become quite popular in Japan, where it is being adopted by a growing number of homeowners and businesses. Hydrogen fuel cells are also gaining momentum and being used for residential energy and clean transportation.