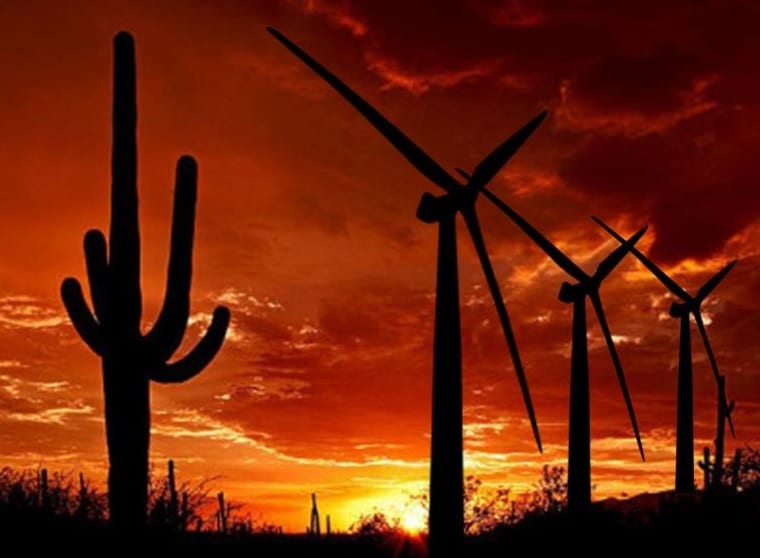 New wind energy project to take root in Arizona
July 10, 2013
Arizona wind energy project wins approval from federal government
Wind energy is gaining prominence in the U.S. as the federal government continues to look for viable alternatives to fossil-fuels. Wind power has become nearly as popular in the U.S. as solar energy, and the federal government has been showing a great deal of support for wind projects that have been taking root throughout the country. The Department of the Interior recently announced the approval of a new wind energy project that will take place in Arizona.
Project boasts of 500MW capacity
The new Arizona wind energy project boasts of a maximum capacity of 500 megawatts, enough to power approximately 175,000 average homes. Approval of the project comes on the heels of the unveiling of President Obama's climate change action plan, which aims to tackle the various environmental issues that the country faces. Part of this action plan involves the increased support for clean power and wind and solar energy are likely to receive a significant amount of this support.
Approval paves the way for projects to make use of federal land
The wind energy project, called the Mohave County Wind Farm, will be comprised of 243 wind turbines, which will all be located on federal land. The approval for this project paves the way for additional wind energy initiatives to find the same kind of support and these projects will gain access to some 35,000 acres of federal land. The project received approval from the federal government due to the steps its developers had taken to ensure that the wind farm itself did not disrupt the local habitat.
US continues to show support for various forms of renewable energy
Wind energy is not the only form of sustainable power that the U.S. is showing interest in. Solar energy has become a major focus for the country, especially in states like California and Hawaii. Hydrogen fuel has also managed to acquire some support, but mostly for its uses in transportation. Geothermal energy and hydropower have also managed to attract the attention of the federal government, but much of the country's energy interests remain heavily within the realm of fossil-fuels.