Residential solar energy users in Nevada may soon face new fees
May 26, 2015
Nevada residents who use solar power may be charged a new electricity rate.
As early as summer of this year, people who live in the state of Nevada who have installed their own solar panels may be subject to a fee, as state senators agreed last week in a 21-0 vote to allow the public utilities commission to create a new electricity rate for those currently benefiting from residential solar energy.
The current net metering system in Nevada is capped.
Under the present law, solar customers in Nevada can sell the excess energy they generate via their solar panels, back to the utility company. In return, these residents can zero-out their electricity bill by receiving a credit on their utility bill for the power that they added to the grid. This is an incentive program known as net metering.
However, currently, only 3% of Nevada customers are eligible for the program. Although the new bill would lift the net metering cap, at the same time, all new solar customers would be required to pay a fee.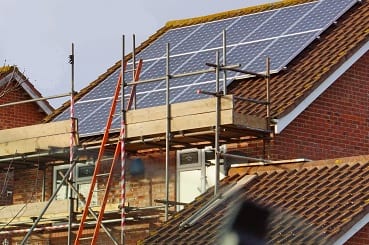 Some utility companies feel that net metering is unfair to customers who do not have solar panels installed on their rooftops, and that solar customers are not paying their fair share for the grid, as net metering can, in theory, allow them to pay nothing for the electricity they generate because they can sell it back to the grid.
NV Energy argues that it is necessary to restrict the amount of solar energy that is sold back to the grid to ensure fairness among all ratepayers, which includes customers who don't have solar installations on their homes.
Residential solar energy fees could hinder Nevada's solar industry.
On the flip side of the coin, solar advocates argue that introducing such fees will hinder the solar industry, because residential solar has played an important part in Nevada's substantial solar power growth.
According to non-profit industry group The Solar Foundation, in the past year, the state had the fastest solar job growth in the United States. Furthermore, with almost 6,000 solar employees, Nevada has the largest solar employment per capita. This growth is not only the result of several utility-scale solar projects, but also from an increase in the installation of rooftop solar panels on homes.
In fact, according to the Solar Energy Industries association, last year, nearly two times as many residential solar systems were installed compared to 2013. Currently, almost 2,000 Nevada residents generate their own solar power.
However, solar advocates worry that once the new imposed fee takes effect, it will negatively impact the solar industry in Nevada in the same way that a similar fee implemented back in 2013 in Arizona, had on that state. The fee significantly stymied the growth of rooftop solar installations in Arizona and, this year, SolarCity, a residential solar panel installation company, moved over 80 jobs out of the state, claiming the fee to have caused a slowdown.
The Nevada public utilities commission has until July 31 to decide on the amount residential solar energy customers will be required to pay.