Reverse auction for renewable energy underway in Brazil
August 14, 2014
Energy projects offer up a collective 26 GW of capacity to the Brazilian government
Brazil is becoming an active renewable energy market, especially when it comes to wind power. The country has been investing in new forms of energy to reduce its reliance of fossil-fuels from foreign sources and boost its economy. Energy developers from around the world are beginning to flock to Brazil to take advantage of certain incentives and find a home for their ambitious energy projects. Many of these developers have managed to find significant success in the country, which has lead to a "reverse auction" scenario.
Majority of capacity available comes from wind energy proejcts
Some 1,034 energy projects throughout the country are offering more than 26 gigawatts worth of electricity to the Brazilian government. The majority of this energy capacity comes from 626 wind farms, with 400 solar power projects offering 10,790 megawatts worth of capacity. Various small-scale projects make up the remainder of the capacity on offer. The government will choose to purchase electrical power from projects that offer reasonable rates.
Energy projects chosen by the government will likely be involved in longstanding power purchase agreements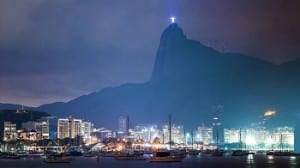 The energy projects chosen by the government will have to enter into medium-to-long-term power purchase agreements. These projects will have to begin supplying the government with electrical power in 2017 and will have to do so for the remainder of any agreement made with the government. Considering Brazil's strong interest in renewable energy, many of the projects that are offering electricity are likely to be chosen by the government.
Reverse auctions are having a major impact on the cost of renewable energy and affecting the development of new projects
This is not the first time a reverse auction has been held in the Brazilian energy market. These auctions have had a dramatic impact on the cost of renewable energy in the country. In the case of wind energy, the cost of electrical power generated by wind turbines dropped from $150 per megawatt-hour to $50 per megawatt-hour. The dropping price of clean energy also encouraged new projects to take form throughout the country.