The Pope wants urgent action taken on Climate Change
June 22, 2015
Pope Francis's massive papal letter also calls for an end to fossil fuels.
The recent papal encyclical from Pope Francis, which was released late last week, calls for urgent action on climate change as well as calls for the elimination of fossil fuels. In his 184-page papal letter, the pontiff wrote that the changing climate is a worldwide problem with social and environmental consequences that extend far and wide, with the poorer nations experiencing the worst of it.
Greed and apathy are to blame for the problem, according to the pope.
The head of the Roman Catholic Church called lack of action on climate change "collective selfishness" and primarily blamed the "throw-away culture" of the world's most affluent nations as being a huge part of the problem.
In his encyclical titled "Laudato Si" ("Praise Be"), Pope Francis writes: "Those who possess more resources and economic or political power seem mostly to be concerned with masking the problems or concealing their symptoms."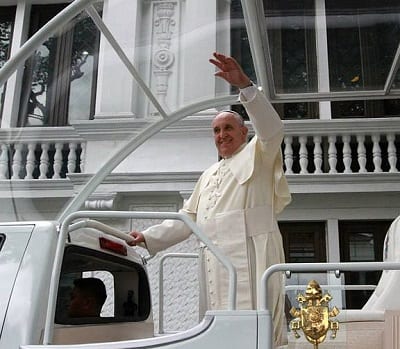 According to the pope, humanity needs to come together as a group and acknowledge responsibility for their fellow men and women "upon which all civil society is founded." He wrote that the changing climate is one of the chief current challenges that humanity faces.
Developing nations are also huge contributors to climate change.
Francis explained in his letter that developing countries are the largest producers of harmful greenhouse gas emissions, and that they need to increase their use of renewable energy and rely less on nonrenewables like fossil fuels, which are heavier environmental polluters. He also said that developing nations should help poorer nations by supporting "policies and programs of sustainable development."
The pope's powerful letter clearly shows that he is on the side of those who feel that action needs to be taken against climate change, and that the Earth's rapid warming is significantly the result of human contribution.
As such, his letter has been praised by environmental groups like WWF International, whose president, Yolanda Kakabadse, stated that the pope's opinion on the matter was a "much needed moral approach to the climate debate." Kakabadse added that climate change isn't just a scientific issue anymore, but is becoming one that is much more ethical and moral.
However, on the flip side of the coin, those who are skeptical about climate change, including many Republican government officials, were not moved by the papal encyclical. In fact, U.S. Senator James Inhofe, who is also chairman of the Senate environment committee, feels that the Pope should stick to his job and leave "science to the scientists."
Nonetheless, in spite of those who may be in favor of or against Pope Francis's views on climate change, or whether or not his opinion will have any impact at all, one fact is for certain: his message was received far and wide.