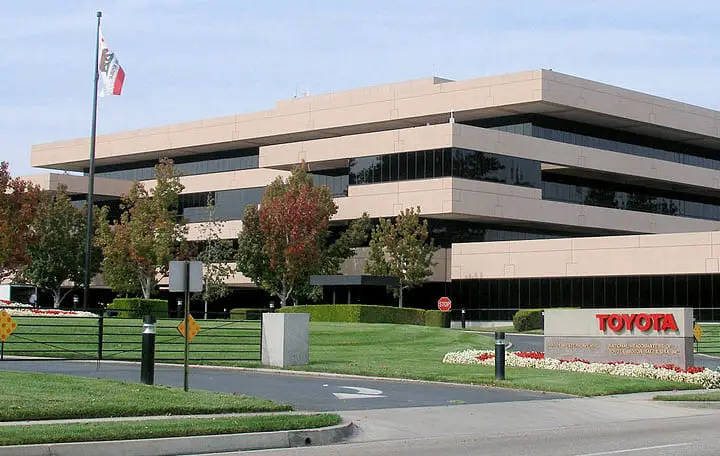 Toyota activates new stationary fuel cell at US headquarters
October 18, 2012

Toyota continues to show strong support for hydrogen fuel cells
Famed automaker Toyota has activated a new 1.1 megawatt hydrogen fuel cell that will serve at the Toyota Motor Sales, USA headquarters in Torrance, California. The automaker has become one of the strongest proponents for hydrogen fuel cells in the auto industry. The company had shown only modest support for the energy systems a few short years ago, favoring lithium-ion batteries for electric vehicles. Late last year, Toyota announced that it was working on developing its own hydrogen fuel cells for transportation and other purposes. Now, those plans are finally coming to fruition.
Fuel cell provided by Ballard Power Systems
The fuel cell that is located at the Torrance facility is stationary and will account for approximately half of the energy demands of the facility itself. The fuel cell was designed by Ballard Power Systems, a leading developer of stationary and PEM fuel cells. The energy system will produce no harmful emissions and is considered to be the largest PEM fuel cell in the world. Typically, PEM fuel cells are small in size, which has made them attractive to the auto industry. Toyota believes that this particular model of fuel cell holds vast potential as an energy source for more than just vehicles.
Hydrogen delivered by Air Products
Like others of its kind, the new PEM fuel cell uses hydrogen to generate electricity. This hydrogen is delivered to Toyota through a dedicated pipeline. The fuel itself is produced by Air Products, which uses natural gas to produce hydrogen for this fuel cell. Though natural gas is a fossil-fuel, it produces significantly fewer emissions when it is burned. In an attempt to make the process as environmentally friendly as possible, Toyota has purchased a landfill that will be used by Air Products to capture biogas and use it to produce hydrogen fuel.
Toyota continues to see promise in hydrogen fuel
Toyota participated in the recently ended European Hydrogen Road Tour. The automaker, along with its compatriots, embarked on the nearly month-long venture to show off the capabilities of hydrogen transportation. Toyota found success in this endeavor and is now switching gears to focus on how hydrogen fuel cells can be used as energy systems for something other than transportation.