Toyota eyes London for hydrogen fuel cell vehicle launch
June 23, 2015
London has won Toyota's attention for commercialization of its fuel cell vehicle
Japanese automaker Toyota believes that the United Kingdom will be a prominent market for its new hydrogen fuel cell vehicle, the Mirai. Toyota is targeting London as a launch pad for its efforts to commercialize the new vehicle. The company has praised the hydrogen fuel infrastructure in London as being both comprehensive and efficient for consumers. As such, it could serve as a promising opportunity for Toyota, which is trying to lead a new generation of clean transportation vehicles.
Hydrogen fuel infrastructure proves promising in the UK
As a whole, Europe has proven to be an attractive market for fuel cell vehicles. Several European countries have begun investing heavily in the development of a hydrogen infrastructure, preparing themselves for the launch of fuel cell vehicles. In the UK, building a hydrogen infrastructure has become a priority for the government, with London receiving more attention when it comes to building hydrogen stations. London is currently home to three hydrogen fuel stations, with a total of 12 being open to the public throughout the United Kingdom.
Toyota to sell Mirai directly to consumers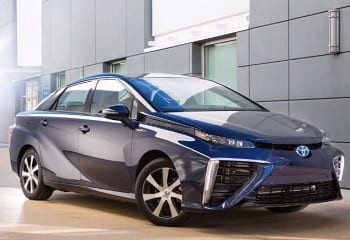 During the first year of the Mirai's launch in the UK, Toyota will be selling its vehicles directly to consumers. This is meant to build a relationship with these consumers and it will give Toyota  a way to better explain the benefits of hydrogen fuel cells and how they can be used in transportation. The Mirai can travel more than 300 miles before needing to be refueled and is fueled in a way similar to conventional vehicles. The Mirai consumes hydrogen instead of gasoline, making it an environmentally friendly than its more conventional counterparts.
Infrastructure may help fuel cell vehicles thrive
Toyota intends to sell the Mirai for approximately $60,000 in the United Kingdom. The vehicle may benefit from the relatively robust hydrogen fuel infrastructure in the country. The UK government has plans to build more hydrogen stations in several large cities, making clean transportation more convenient for consumers with fuel cell vehicles.