Toyota sees growing demand for hydrogen fuel cell vehicle in the US
February 3, 2015
Demand for the Mirai is already reaching new heights in the United States
Toyota is seeing a swell in demand for its new hydrogen fuel cell vehicle come from the United States. The automaker's fuel cell vehicle, the Mirai, is not meant to launch in the U.S. market for another nine months, but the company notes that there has been a great deal of interest in this vehicle already. The Mirai officially launched in Japan just over a month ago, and Toyota has already started plans to increase the production of this vehicle in order to accommodate aggressive demand in the Japanese market.
16,000 firms express interest in purchasing the new fuel cell vehicle
According to Toyota's U.S. vice president, Bob Carter, the company has received interest in the Mirai from 16,000 firms. Most of these firms have expressed interest in the vehicle, but this interest does not necessarily translate into real sales. Some of these firms have expressed their desire to purchase the vehicle as soon as it is launched in the United States. In order to meet the demand coming from the U.S. market, Toyota may have to increase production of the Mirai much further than it had anticipated.
Hydrogen fuel continues to gain momentum in the transportation world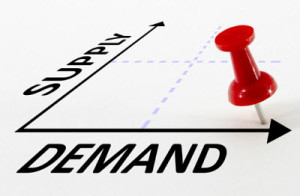 Hydrogen fuel cells have become quite popular in the auto industry. Many of the world's leading automakers are currently developing fuel cell vehicles, with Hyundai already having released such a vehicle last year. These vehicles have managed to generate hype because of their efficient nature and the fact that they can perform on par with conventional vehicles. The problem, however, is that fuel cells are notoriously expensive, and there is no comprehensive fuel infrastructure in place to support fuel cell vehicles.
Lack of subsidies may not be harming interest in fuel cell vehicles
Automakers have been investing in the development of a hydrogen fuel infrastructure in favorable markets, but this does not address the issue of the high cost of fuel cells. Toyota's fuel cell vehicle is priced at  approximately $60,000. There are not subsidies being offered by the U.S. government to reduce the cost of the vehicle, but interest in the Mirai seems to be unhindered by this fact.