Trudeau and Obama to work together to fight climate change
March 10, 2016
Canada and the United States want to mitigate the effects of a changing climate
Canadian Prime Minister Justin Trudeau and President Barack Obama have committed to work together in order to fight climate change. The two believe that climate change is a potentially disastrous phenomenon that may result in serious consequences for most of the world. The two world leaders are excepted to unveil various measures they will take to mitigate the effects of a changing climate and embrace clean energy in order to reduce the amount of harmful emissions being produced.
Cutting methane emissions and protecting the Arctic have become top priorities for Trudeau and Obama
One of the measures that Canada and the United States will take involves cutting methane emissions from the oil and gas industry by 45%. Other measures involve introducing new protections for the Arctic, which is currently experiencing one of the most mild winters in modern history. These measures may be an important step forward for Canada, as the previous Prime Minister, Stephen Harper, took relatively little action on the issue of climate change. Harper was often accused of backtracking on promises he had made to protect the climate.
Some political challenges may make fighting climate change difficult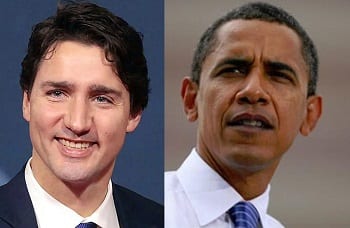 Prime Minister Trudeau has already shown great concern over the impact of climate change. This concern aligns with that of President Obama and the two may be able to work with one another in order to make their countries more environmentally friendly. They may face some political challenges, however, as some lawmakers in both Canada and the U.S. are unconvinced that climate change is a cause for concern. A few of these lawmakers have gone so far as to suggest that the phenomenon is not actually real.
A changing climate poses serious risks
Climate change poses a significant threat to both the U.S. and Canada. This phenomenon is expected to result in more frequent and more powerful storms, which can cause significant damage to property and infrastructure. Extended droughts are also a result of climate change, which could have a disastrous impact on the agriculture sector and devastate the economy of both countries.