Accio Energy aims to revolutionize the offshore wind energy space
December 5, 2016
Start-up develops promising new solution to offshore wind turbines
Accio Energy, a start-up based in Michigan, is testing out new offshore wind energy technology that could eventually replace offshore turbines. Offshore wind has been gaining more attention in recent years, largely to the massive energy potential that can be found at sea. One issue with offshore systems, however, is their use of large turbines, which are both difficult and expensive to install. These turbines have shown themselves to be capable of generating large quantities of electrical power, but the logistics involved in their installation have made offshore projects somewhat unattractive.
New panels use charged water droplets to generate electricity
Accio Energy has developed a permeable mast, or panel, which uses a fine mist of positively charged water droplets. As wind travels through the panels, they generate electrical power. The wind separates negative charge from the positive, with the panel collecting electrons and sending them through a high-voltage cable that travels back to the coast. Accio Energy calls this process ElectroHydroDynamics and it was developed with the aid of the Advanced Research Projects Agency-Energy (ARPA-E), a division of the Department of Energy.
Accio Energy will be testing its new offshore wind energy technology with the aid of ARPA-E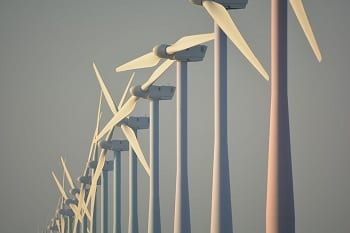 ARPA-E has awarded Accio Energy with approximately $5 million to test its new offshore wind energy technology at scale. The company expects to have two, full-scale prototypes in operation within the next two years. The offshore wind energy space could be in for a major shift, depending on the performance of this new technology. Many years of research and development will have to be done, however, even if Accio Energy's prototypes prove promising.
Smaller turbines could help reduce the high cost of offshore wind energy systems
Typically, offshore wind energy turbines can reach heights of 700 feet. These turbines can be very difficult to transport and maintain, which also makes them quite expensive. By comparison, the panels developed by Accio Energy can fit on an 18-foot flatbed truck. They can also be transported via conventional ships, unlike typical offshore turbines that require specialized equipment to transport.