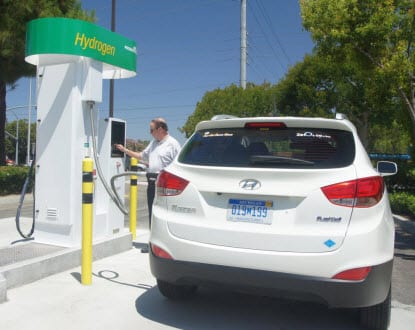 Air Products identified as hydrogen fuel provider for World Hydrogen Energy Conference
June 8, 2012

Mobile hydrogen fueling technologies utilized during annual event
Air Products, a leading developer of hydrogen production technologies, has been identified as the exclusive provider of hydrogen fueling technologies for the various driving events held at the 2012 World Hydrogen Energy Conference in Canada. The company has been a leading force behind the development of a hydrogen fuel infrastructure around the world and has been tied to several automakers developing hydrogen-powered vehicles. Air Products has begun appearing at more events around the world, providing access to on-demand hydrogen fuel used to show off the capabilities of hydrogen-powered vehicles during such events.
Mobile hydrogen fuel keeps alternative energy vehicles running for demonstrations
The company has supplied its mobile hydrogen fueling technologies to the event. These mobile fuel stations have been used to provide fuel for a number of hydrogen-powered vehicles throughout the duration of the event. Air Products believes that its mobile technology is ideal for events such as the World Hydrogen Energy Conference because it allows vehicles access to the fuel they need wherever they may be going. The company also notes that so called "ride-and-drive" demonstrations are a powerful way to show off the capabilities of hydrogen-powered vehicles and is keen on supporting these events.
Canadian organization praises the efforts of Air Products
The Canadian Hydrogen and Fuel Cell Association, the organization that oversees the annual World Hydrogen Energy Conference, has expressed pride in the fact that Air Products has provided fuel for the event. The organization has been a leading advocate for hydrogen fuel cells and alternative energy in Canada and has worked with many international companies to promote the viability of hydrogen energy.
Versatile technology may be the answer to the infrastructure problem
The versatile hydrogen fueling technologies from Air Products have proven themselves to be a boon for the fuel cell industry. Infrastructure has long been a problem that has kept the progress of fuel cells at bay. Air Products believes that mobile fuel stations, as well as stationary ones, are a way to alleviate the problems presented by the lack of an infrastructure by raising the awareness of the capabilities of hydrogen-powered transportation.