Amazon goes greener with more wind power
November 23, 2015
The e-commerce giant has unveiled new renewable energy plans.
Amazon Web Services (AWS) intends to power more of its cloud data centers with wind power and recently announced in a press release that it has contracted with EDP Renewables to build and operate a 100 MW (megawatt) wind farm in Ohio.
The new wind farm is expected to generate an estimated 320,000 MWh (megawatt hours) of energy, annually.
Called the Amazon Wind Farm US Central, the wind turbines will be located in Paulding County, Ohio. Starting in May 2017, each year, the farm is expected to generate 320,000 MWh of wind energy, which is enough energy about equal to powering over 29,000 U.S. homes per year. The power that is generated from the wind farm will be sent to the electrical grid that provides power to both present and future AWS cloud data centers.
Wind power is an important part of Amazon's plan to achieve its 100% renewable energy commitment.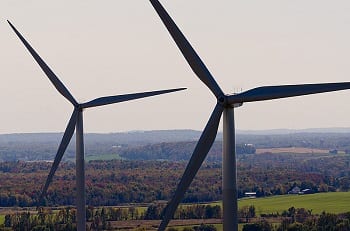 According to the official Amazon Web Services website, the company has made a lot of progress toward its 100% renewable energy commitment. AWS states on its site that "As of April 2015, approximately 25% of the power consumed by our global infrastructure comes from renewable energy sources. By the end of 2016, we intend to reach 40%."
Over the past year, Amazon has made a concerted effort to improve its green image. In April of 2014, the e-commerce giant was criticized for being one of the dirtiest companies in the internet sector, trailing far behind its primary competition in terms of making clean energy efforts. However, now the company has several renewable power projects underway.
In addition to its plans for its newest wind project, Amazon has two other wind farms in the works including the 150 MW Amazon Wind Farm Flower Ridge in Benton County, Indiana, and the 208 MW Amazon Wind Farm US East in Perquimans and Pasaquotank counties, North Carolina. The farm in Indiana is expected to generate an estimated 500,000 MWh of power per year, starting as early as January 2016, while the one in North Carolina is expected to generate 670,000 MWh of energy annually, beginning in December 2016.
Aside from its wind power projects, the company has also invested in solar energy and has an 80 MW Amazon Solar Farm US East in Accomack County, Virginia. As early as October 2016, this solar project is expected to begin generating 170,000 MWh of solar energy annually.