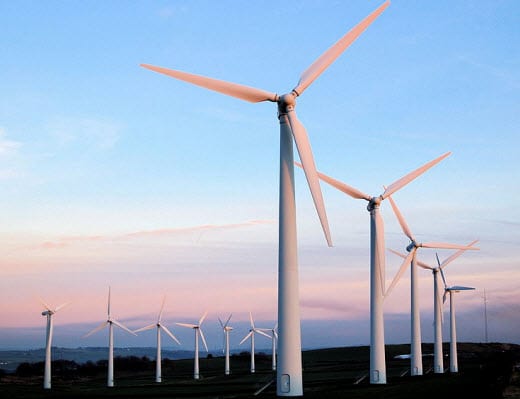 China welcomes four new wind farms
November 16, 2012

New wind farms begin operation in China
Four new wind farms have come online in China, introducing approximately 198 megawatts of clean electricity capacity to the country. China has become a leading force in the alternative energy space. The wind farms come from the Huadian Power International Co., a Chinese energy producer. China is one of the largest fossil-fuel consumers in the world, and has received a significant amount of criticism because of this fact. The country has been showing concerns regarding the effects of fossil-fuels on the environment and has begun looking to alternative energy as a viable energy option.
Wind energy initiative backed by China Development Bank
The wind farms are funded by the China Development Bank. Through this financial backing, Huadian Power International was able to acquire 111 of the 132 wind turbines that are part of the farms. The project began construction in the fall of 2011, taking root in the Heliongiiang Province. Construction moved quickly and was met with only modest complications. Though Huadian Power International manages the wind farms, two of the farms are associated with other energy companies.
China could see as much as 1,000GW of wind energy capacity by 2050
Currently, wind energy only makes up 1% of China's over all energy generation. The Central Government suggests that the country has the capability to acquire up to 17% of its energy from wind energy alone, if more projects can take root in areas where wind currents are strong. According to the National Development and Reform Commission, China could even reach as much as 1,000 gigawatts of wind energy capacity by 2050.
China shows ambition in the realm of alternative energy
Though the four new wind farms are the latest addition to China's efforts concerning wind energy, the country has ambitious plans for this form of power. China has set for itself sustainability standards that call for the adoption of alternative energies of all kinds in an effort to reduce carbon emissions and improve the country's environmental standing. Wind energy, as well as solar and hydrogen, will play a big role in this endeavor.