EV and Hybrid Technology Too Expensive For Auto Buyers
August 31, 2013
There's a well-known conundrum facing people fresh out of college who are looking for a job: You need a job in order to acquire experience, and you need experience in order to acquire a job. By the same token, companies refuse to invest in making new technology cheaper and more efficient until more people buy it, and people refuse to buy new technology until companies make it more efficient and cheaper.
While electric cars are no longer a rare sight, it will be a while before they're commonplace.
This is the kind of problem that electric vehicle (EV) and hybrid technology faces in the automobile manufacturing market. Fiat and Chrysler global powertrain head Bob Lee recently announced that Chrysler and Fiat are suspending electrified powertrain development until consumers show interest in paying for the technology. Rather, the two automakers will focus on downsized turbocharged gas engines and diesel power for North America.
EV And Hybrids Not Worth It?
Lee says that American consumers are unwilling to accept the cost and lifestyle changes that come with owning an EV or hybrid. Concerns linger about these cars' range, maintenance costs and performance. Cost consideration for items like battery packs, chargers and electric motors are also a factor.
Believing that the situation could remain status quo over the next ten years, Lee believes that diesels and the smaller turbocharged gas engines are Chrysler's best bet for improving their cars' fuel efficiency. Many car manufacturers in Europe are moving in this direction as well.
And Yet On The Other Hand…
While Lee certainly has a point, it should be noted that Tesla Motors' Model S, a car that's by no means cheap, is doing very well in terms of sales. It snagged 8.4% of luxury vehicle sales in the US for the first half of 2013, outselling its four closest competitors by a significant margin. Fiat currently sells an EV, the 500e, which actually costs the same as the standard gas-using 500, but is only sold in California.
Salvation Through Diesel?
Neither Chrysler nor Fiat currently offers hybrid vehicles. Chrysler has started offering Fiat diesel engines in its vehicles, with the most recent being the 240hp 3.0-liter V6 turbodiesel Jeep Grand Cherokee. The next two Chrysler vehicles slated to receive diesel engines this year are the Ram ProMaster cargo van and the Ram 1500 pickup truck, in the summer and late autumn respectively. Lee insists that diesel engines are superior to hybrids because they provide about the same fuel economy without sacrificing performance.
Adapt Or Perish?
Change can be scary and risky, and it seems that the big corporations are reluctant to embrace that change. One can almost see the American consumers on one side of a chasm and the big auto-makers on the other side, saying "I'm not jumping first. You go." "No, you!" "No! I insist! You first!". Big automak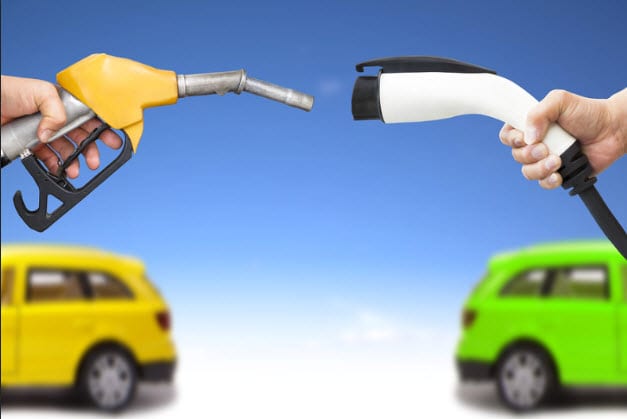 ers don't want to take the risk of embracing a new technology and making it more affordable. They are aware that the average American isn't exactly flush with extra cash to plunk down on a still costly new technology, regardless of the eco-friendliness and long-term fuel savings.
Meanwhile, on a related note, outside of America, other nations are making significant strides in alternative energy sources such as solar and wind power. It's a shame, really. America used to have quite a reputation as a nation of innovators. Now we have, what, reality shows? Something to ponder as you pay almost $4.00 a gallon for gasoline next time you fill up.
Byline: John Terra has been writing freelance since 1985. A dedicated web fanatic, he's done numerous reviews for publications such as Computer Shopper, and writes about everything from roof maintenance to invoice software.