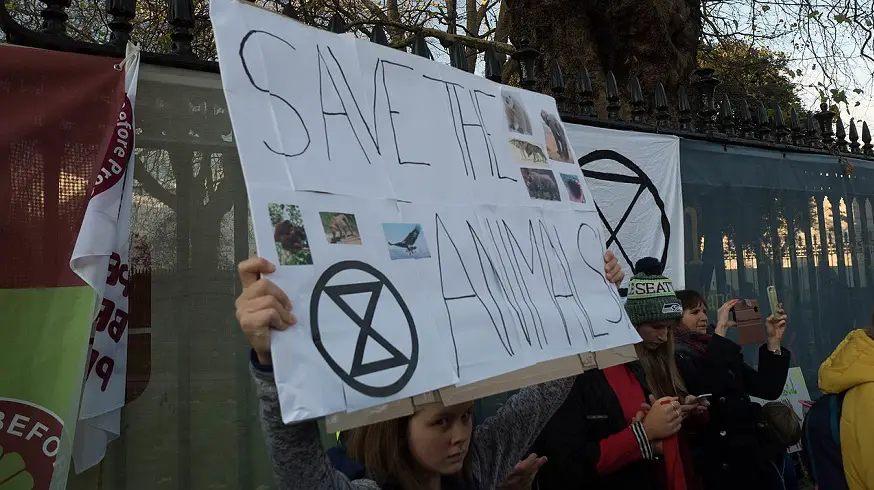 Extinction Rebellion protest hits New York with fake blood, dancing and chanting
October 9, 2019
Climate activists make a big spectacle to make a big point and raise awareness.
On Monday, a large group of protestors, led by UK-founded Extinction Rebellion movement, occupied a section of Wall Street outside the New York Stock Exchange for the purpose of disrupting people's "business as usual" days to draw attention to the climate crisis and the government's failing efforts to save the planet. However, some of the New York demonstrators went the extra mile beyond holding up signs and chanting, and chose to play dead in pools of fake blood to represent people killed by climate-related disasters.
Monday marked the first of five days of civil disobedience in New York.
Monday was just a taste of things to come, and marked the first of many protests to take place throughout New York all week long. The five days of civil disobedience in New York, called the Global Extinction Rebellion, is also taking place in other parts of the country as well in other major cities around the globe.
The worldwide peaceful protests kicked off on October 7, 2019 and will continue for two weeks. So far, thousands of demonstrators have taken part in New York, London, Amsterdam, Paris, Sydney, Toronto and many other cities. All the protestors are calling for their governments to take urgent action to cut carbon emissions before it's too late.
As is the case in the rest of the world, the protestors in New York have disrupted several landmarks in the heart of the city's financial district and blocked traffic on Broadway. According to the New York Police Department, approximately 90 people were arrested on Monday, reports The New York Times.
Extinction Rebellion hopes to make a mark in America through New York.
According to organizers of the protest, New York City is a good place to speed up the group's push into the U.S., where not everyone agrees there is an actual climate crisis. New York City is home to a liberal population, a growing youth climate movement, is vulnerable to sea-level rise, and has ambitious new city and state climate legislation.
However, according to The New York Times, Russel Gray, one of the Extinction Rebellion organizers, says that in order to succeed in America, the group will have to do better with its efforts to form coalitions with poor communities of color. The reason being that these communities have been disproportionally affected by environmental problems.
Other problems that tend to weigh more on the minds of Americans are issues such as health care, education and inequality.
"For people who are just trying to live their lives, freaking out about climate change and wondering what they can do about it, Extinction Rebellion provides a theory of change: using mass protests against corporate power to force systemic change. If it works, it can solve those other problems too," Gray said.
Extinction Rebellion is a non-violent and non-political movement with the goal of using civil disobedience to compel government action on climate breakdown, biodiversity loss, and the risk of ecological and social collapse. The group wants world governments to lower carbon emissions to net zero by 2025, which is years earlier than any official target.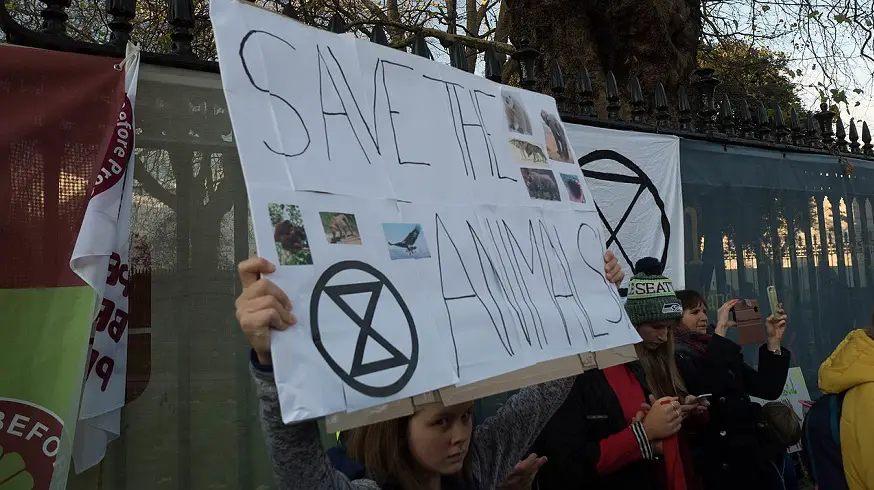 The movement was founded in the UK and launched in October 2018 with a focus on climate change mitigation, conservation and environmental protection.