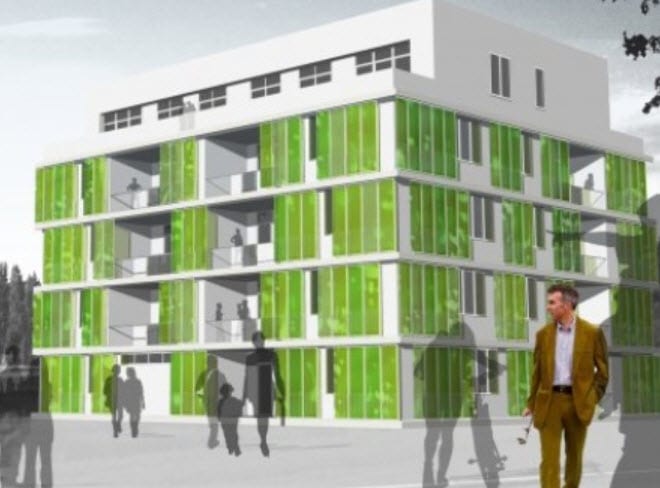 World's first algae-powered building called BIQ
October 29, 2012
BIQ to be the first building of its kind in the world
Splitterwerk Architects is building the world's first algae-powered building in Germany. The architecture firm designed the structure, called BIQ, that is completely covered in a bio-adaptive microalgae that will give the building a distinct bright green color and help it generate its own electricity. The effort has been commissioned by the International Building Exhibition in Hamburg, Germany, and BIQ is expected to be fully completed at some point next year.
Algae generates heat energy that can be converted into electrical power
BIQ is comprised of several bio-reactive louvers that serve as enclosures for the algae that are used for the building. These enclosures ensure that the algae are protected from exposure and provide a suitable habitat for the algae to thrive and grow. The bio-reactors that will be built into BIQ will capture the heat energy produced by the algae and convert this into electricity. Once construction of BIQ has been completed, the building will be evaluated by scientists and research groups in Germany to determine whether the methods used to construct the building have merit.
Once building is completed, scientists will determine its merit
If the science community finds the methods used to construct BIQ favorable, many more buildings may be equipped with the bio-adaptive microalgae that are used to give BIQ its energy. If the structure's algae-filled panels are capable of generating a viable amount of electrical power, they may be a suitable answer for some of the energy problems that the world is having. Buildings equipped with these algae-panels would be able to generate their own electricity, thus eliminating the costs associated with purchasing energy from a utility company or making use of other forms of clean power that may be more expensive.
BIQ may inspire future generations of sustainable buildings
BIQ will be the first of its kind in the world, but may not be the last. Algae is becoming a popular topic in the world of alternative energy. These organisms can be used for fuel production and various other environmentally friendly purposes and have proven themselves quite valuable in terms of sustainability. BIQ may help bring these organisms into the world of clean, sustainable buildings, highlighting their ability to produce energy.