Floating offshore wind energy farms planned for Hawaii
March 31, 2015
The planned project will include 102 wind turbines with a total capacity of 408 MW.
Alpha Wind Energy (AWE), a Danish wind energy consortium, is planning a major offshore wind energy project in Hawaiian federal waters that will result in the building of two floating wind farms off the southern and northwest costs of the island of Oahu, and according to Jens Petersen, the AWE managing director, the company has given a lease request to the U.S. Interior Department for two offshore wind projects, consisting of 51 turbines each, which combined will have a 408 MW (megawatt) capacity.
The turbines will be located no closer to land than 12 miles.
Due to the fact that land is not in abundant supply in Hawaii, offshore wind energy makes sense for the U.S. state. However, at the same time, it has become important to find the ideal location, as wind turbines can be eyesores if they are too close to the shore, which could have a negative impact on tourism. Furthermore, there are also the military and ocean resource stakeholders that need to be considered.
AWE has taken all of this into consideration in its proposal and managed to find a way to avoid potential issues. It has accomplished this by proposing to locate one of its wind farms off Oahu's South Shore, about 17 miles south of Diamond Head, in an area spanning approximately 12,000 acres where the turbines would be in depths of up to 700 meters. Meanwhile, its second farm – the North Shore project – would be located 12 miles northwest of Kaena Point, in an area covering nearly 11,400 acres with turbines in depths reaching up to 1,000 meters.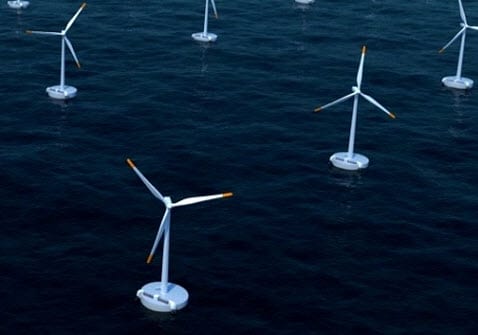 Offshore wind energy is only one of Hawaii's renewable energy efforts.
Hawaii has become a renewable energy testing ground for America and has received plenty of support from the U.S. Navy. Historically, the state has been heavily dependent on costly imported fossil fuels. However, it is currently working on expanding its renewable sources including, among others, wind, solar, and geothermal, and is even looking into alternative fuel sources, such as hydrogen fuel and biogas. Hawaii's goal is to obtain 100% of its power from renewables by 2040.
That said, in regard to offshore wind projects, it has been several years since there were any serious plans for this kind of development off the Hawaiian cost but, recently, major developers of these types of renewable energy projects are showing interest.
As for AWE's offshore wind energy plans, it still needs to make a deal with Hawaiian Electric Co. for a power purchase agreement.