Geothermal energy development welcomed in the UK
October 9, 2014
The first geothermal power in the UK in 30 years is generated by Rosemanowes project.
Engineers at the Rosemanowes geothermal energy site in Cornwall demonstrated that water can be heated to 60 degrees Celsius via heat that is naturally present underground in the region, which is hot enough to provide a building with hot tap water and heating.
Geothermal will provide the Unite Kingdom with another clean and safe renewal energy resource.
Edward Davey, the Secretary of State for Energy and Climate Change, is a supporter of geothermal in the UK. Davey said that "We need a broad base of renewable energy in the UK and I am pleased to see that a deep geothermal heat project is finally producing energy." He added that "This nascent sector could make a real contribution to renewable heat supply in the UK."
Geothermal Engineering Ltd. (GEL) is behind the design and management of the project, which has received funding assistance from the Department of Energy and Climate change. The managing director of GEL, Ryan Law, said that geothermal power could significantly contribute to the UK's energy portfolio, as it can provide heat and electricity. The Rosemanowes project shows that natural heat that is located deep under the ground can be delivered in Cornwall. GEL is excited to develop more geothermal projects in the region.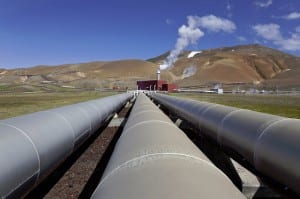 Presently, there are two sites in Cornwall with permission to plan geothermal plants and sites in other areas of the United Kingdom.
The UK could have been a leader in geothermal energy years ago.
According to Lord Teverson, who has visited the Rosemanowes site, heat and energy produced by geothermal "has had too low a profile" in all of the renewable energy debates. Lord Teverson went on to say that it's a technology that has been ignored in the UK, even though the nation had the chance to become a leader of this renewable resource many years ago.
Research for geothermal energy production in the UK was first conducted back in the 1970's and 1980's at the Rosemanowes hot rocks project. Lord Teverson commented that the country now has the start of a "new energy revolution" in Cornwall.